Luxury minivan guided travel and vacations


Discover Italy with your own private
chauffeur guide

A La Carte Italy Tours offers exclusively private driver-guide tours. All our tours are custom-made to suit your needs, tastes and dates, and are run on an exclusive basis. We never mix passengers who do not know each other.
Northwestern Italy Tour
The north-west of Italy offers a world of cultural sightseeing and relaxing. The Northwestern Italy Tour, with departure and arrival in Milan, has a duration of 10 days. As with all our tours, you will have your personal driver-guide and minivan / limousine all along, and the Italy tour will be custom-designed to suit your interests and needs. This tour circles the northwestern corner of Italy, with escorted excursions in Genova, Turin, Stresa, and Como. Highlights of this tour include a historic city tour of Turin, a lakeside walk in Stresa, and a visit to da Vinci's "The Last Supper" in Milan.
This tour includes also the Cinque Terre, Riviera di Levante, Lombardy, Liguria and Piedmont regions.
This privately guided and chauffeured tour in Italy can be redesigned to suit your specific interests, needs or timeframe. Unless you wish otherwise, your guide will take you to:
Milan - Camogli - Genova - Portofino - Val di Susa - Saluzzo - Turin - Isole Borromee - Stresa - Lake Orta - Lake Maggiore - Como - Milan
Lake Como in the Italian Lake District
Day
Our suggested itinerary begins and finishes in Milan
1
Milan
:

Your very own chauffeur picks you up from Milan international airport. The Lombard city of Milan is famous for its fashion and style. It is said that the
Galleria Vittorio Emanuele
is the oldest shopping center in the world. It has two glass-covered arcades, and was built in 1865. This is the place to view luxury goods by Gucci and Prada. Next door, visit Milan Cathedral (
Duomo
). It is in Late Gothic style. It is often considered as one of the major churches in the world. There are amazing sights from the roof. Although its construction started in 1386, it was only completed in 1805. A few yards away, another timeless monument:
La Scala
Opera-House. It was expensively refurbished in 2004. Overnight in Milan.
Your trip to Milan will allow you to experience the luxury fashion of the Galleria Vittorio Emanuele II; including goods by Prada and Gucci. Nearby, you can visit the late Gothic style Milan Cathedral and enjoy views of the city from its rooftop.
2
Genova
:

Before leaving Milan, your A La Carte Italy Tours guide will lead you to the Brera Art Gallery. It is one the major collections of Italian paintings. At the Church of Holy Mary of the Graces, see and understand the "Last Supper" by Leonardo da Vinci. Travel to
Pavia
, a city with a peaceful atmosphere. 5 miles away from the center, see the
Certosa di Pavia
(Carthusian Monastery), both Gothic and Renaissance. Carthusian monks are the most isolated of all; they live in individual cells and have no contact with the outer world, or even with each other. 2 nights in Genova area.
In Genoa, experience the remains of ancient 17th-century walls, and a maze of squares and narrow caruggi in its historic centre. Visit the city of Pavia, and view the Certosa di Pavia, a monastery built in both Renaissance and Gothic design.
3
Portofino
:
In your private minivan, follow the Riviera di Levante and visit Camogli and Portofino (
Cinque Terre
).
Cinque Terre
means "Five Villages" - these are five very picturesque villages perched on rocky terraces over the sea. This is where
pesto
and focaccia bread come from. Your A La Carte™ Italy Tour guide will explain the history of this incredibly beautiful area.
Portofino
is a fishing village, but also a retreat favored by aristocracy from the entire world. The bay with its beautiful yachts, the pastel houses and bougainvillea gardens are a delight. Walk to lighthouse and see olive groves and yew trees. 2nd night in Genova area.
Experience a
private tour
of the Italian fishing village of Portofino a place famous for its historic association with aristocracy. Here you can view the colourfully painted buildings that line the shore, its bougainvillea gardens and picturesque harbour.
4
Turin
:
Leave Genoa and stop at
Manta Castle
in Saluzzo. This 12th century fortress was converted into an aristocratic mansion with Gothic frescoes. Let's head in comfort to
Turin
(
Torino
), home to a million people. This is the city of FIAT automobiles (FIAT stands for
Fabbrica Italiana Automobili Torino
). Italo Calvino, Umberto Eco, Friedrich Nietzsche, Jean-Jacques Rousseau all lived for some time in Turin. Your A La Carte Italy Tours personal guide will show you the
Piazza San Carlo
, a harmoniously arranged group of historic buildings. The elegant Po Street, with its palaces, and the Mount of the Capuchin Monks (Monte dei Cappuccini) with its lookout point are also on our city tour. 2 nights in Turin area.
Travel to Turin and visit the 17th Century Piazza San Carlo. Here you can visit traditional cafes including the Caffe Mulassano, and view a range of historic landmarks including the palace Solaro del Borgo, the equestrian statue of Emanuele Filiberto, and the San Carlo and Santa Cristina churches.
5
Val di Susa
:

We spend the day out of town, on a day tour to the
Val di Susa
(Susa valley). This part of the Piedmont region of Italy leads to the French border. The valley is flanked by the Alps. The tallest mountain is the Mont Blanc (15,770 feet). Visit the Abbey of the Sacra di Michele, a former Benedictine monastery, now in the hands of the Rosminian order (Fathers of Charity). Its construction started in 966 AD. In Susa, see the Romanesque cathedral of San Giusto (11th century). In the same town, the
Arco di Augusto
(Augustus Arch) was built in year 9 BC to commemorate peace between emperor Augustus and Ligurian tribes' king Cottius. 2nd night in Turin area.
Your guided tour of Susa Valley will allow you to view the Castello di Villardora, a feudal medieval residence. You can also visit a former Benedictine monastery; the Abbey of the Sacra di Michele, and the 11th century Romanesque cathedral of San Giusto.
6
Stresa
:
Travel to
Stresa
, on the shores of
Lago Maggiore
. Stresa offers breathtaking panoramas and heritage sites. Lakeside stroll. Your A La Carte™ Italy Tour will lead you to the Piazza Marconi. This where lake boats leave from. The San Ambrogio Church was built in 1790; it contains paintings from the 17th century Lombard school. Ernest Hemingway stayed in Stresa, and partly staged his novel
Farewell to Arms
here. The
Villa Ducale
dates from 1770. It is home to the International Center for Rosminian Studies. Ascend
Mt Mottarone
to admire the panoramic view over the lake and mountains. 3 nights in Stresa area.
Travel to the town of Stresa and view the luxurious architecture at the 17th Century, Roman Catholic Sant'Ambrogio church. Experience the town's iconic villas including the Villa Ducale, Villa Dell'Orto and the Villa Pallavicino which is now the site of a zoological park.
7
Lake Orta
:

Orta San Giulio. Travel to Lake Orta, and the village of
Orta San Giulio
. The village is so beautiful that many young couples come here for their wedding. On the
San Giulio
island, the Benedictine monastery
Mater Ecclesiae
is still the home to monks who pray from before dawn to sunset. After we leave the boat, your A La Carte Italy Tours driver takes you for a Scenic drive around the lakes.
Lake Maggiore
has a tectonic origin (resulting from ancient earthquakes), and its shape has been eroded by glaciers 15,000 years ago. 2nd night in Stresa area.
Travel to Lake Orta, one of Italy's smallest sub-alpine lakes, and visit the village of Orta San Giulio. Here you can view the terracotta sculptures of the 20 small chapels of the Sacro Monte which illustrate scenes from the life of St Francis, and its frescoed 16th century town hall.
8
Isole Borromee
:
A gentle day spent on a boat on
Lake Maggiore
. See
Isola Madre
island, with its lush gardens. The Borromeo palace dates back to the 16th century. Isola Pescatori (Fishermen's Island) offers the San Vittore church, parts of which had been built in the 9th century. Napoleon, the Princess of Wales, Caroline of Brunswick stayed on
Isola Bella
("Beautiful Island"), where your A La Carte™ Italy Tour guide will point you the
Palazzo Borromeo
. It is the Borromeo family that gave their name to the three
Borromean Islands
. 3rd night in Stresa area.
Enjoy a boat tour of Lake Maggiore and see the luxurious gardens of Isola Madre and the 16th Century Borromeo palace where you can view an array of ornate furniture and paintings, and the domed ceilings of its expanse of rooms, including the Sala della Musica, the Salone delle Feste and the Sala da Ballo.
9
Como
:
Travel along the shores of
Lago Maggiore
. Your A La Carte™ Italy Tour will include Angera, a small town dating back to Roman times. Discover Angera's Rocca castle, and its wines. Stop at Laveno Mombello lake port town. At
Sacro Monte di Ghiffa
, one of the nine Sacred Mountains of Piedmont and Lombardy, on the UNESCO World Heritage list, see the Chapel of the Blessed Virgin Mary Crowned, built in 1647. The breathtaking panorama, and the 19th century frescoes, render the place magic. After having traveled to
Como
, your A La Carte Italy Tours guide will lead you through that town. The cathedral was started in 14th century. The church of San Fedele is even older, as it was built in 1120. And the basilica of Sant'Abbondio, the patron of the town, dates back to 1095; it is in Romanesque style, and houses 11th century paintings. Overnight in Como.
Your
guided tour
of Ghiffa will allow you to experience the Sacro Monte Di Ghiffa, one of the nine Sacred Mountains of Piedmont. Here you can see the 19th century frescoes of the Chapel of the Blessed Virgin Mary Crowned.
10
Como - Milan
:
This last day has some free time for you to shop, relax or enjoy more sightseeing. Your A La Carte™ Italy Tour driver will make sure you enjoy traveling across Italy to the last minute. If desired, a fascinating visit is that of the
National Museum of Science and Technology
in Milan (
Leonardo da Vinci
's machine models, beautiful setting in a 16th century Olivetan monastery). Drop-off at Milan international airport. This is the end of your "Northwestern Italy Tour."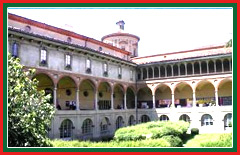 Enjoy a tour of the National Museum of Science and Technology, and experience the designs of Leonardo da Vinci (including flying machines, war machines, and architecture) in a 16th century monastery setting.
Northwestern Italy Tour in 10 days - prices
Type of Accommodation
Boutique
Luxury
If your party has
2-3 passengers
price per person is
US$ 11,900
US$ 18,500
If your party has
4-6 passengers
price per person is
US$ 10,500
US$ 15,800
Our prices include:
private driver-guide all along during your travel in Italy
minivan (limousine) with A/C
luggage handling
domestic flights in Italy (if mentioned in the itinerary)
train rides 1st class (if mentioned in the itinerary)
all entrance fees
accommodation (2 categories to choose from: Boutique or Luxury)
if you select Luxury accommodation, you will also have the best available "room" in that establishment ("suites" or "apartments" upon request)
continental breakfasts
light lunches (lunch is usually kept light and short so we can sightsee more)
dinners in gourmet restaurants (for a Boutique tour); or in best overall restaurants (for a Luxury tour); in all cases, dinner is a la carte (you choose any three items)
1/2 bottle per person of best local wine at dinner
all taxes and tolls
Our prices exclude:
international flights
insurance
optional activities
personal expenses
To book:
please send us an email detailing your dates and wishes to custom@italyprivateluxury.tours
or, if you prefer, please fill out the enquiry form
once you are satisfied with the suggested custom tour that we will design for you, we will ask you to pay a 30% deposit (usually between 3-12 months in advance)
the balance of the tour price (70%) is payable 60 days before the start of the tour
A La Carte Italy Tours accepts and MasterCard
Please do not send us your credit card details by email. In our correspondence, we will point you to a secure form.

Cancellations:
the 30% booking deposit is non-refundable
cancellations until 7 days before departure: 20% of balance refunded
no refund for cancellations received later
We will be happy to answer all your questions. There is no particular charge for a custom tour; if you wish a travel itinerary to suit a particular need, timeframe or interest, just ask us, and we will suggest a tour priced similarly to our advertised tours. Send us an email to custom@italyprivateluxury.tours .