Luxury minivan guided travel and vacations


Discover Italy with your own private
chauffeur guide

A La Carte Italy Tours offers exclusively private driver-guide tours. All our tours are custom-made to suit your needs, tastes and dates, and are run on an exclusive basis. We never mix passengers who do not know each other.
Rome-Amalfi Tour of Italy
The Rome-Amalfi Tour of Italy is a suggested itinerary with departure in Milan and arrival in Rome, and has a duration of 10 days. A La Carte Italy Tours offers you the unique option to enjoy the beautiful sights from a minivan Italy tour with your very own chauffeur who doubles as your private guide as well. The guided tour is an exciting way to explore the many wonders of the country taking you to such scenic locations such as Brescia, Rome and the beautiful Amalfi coast.
This tour features many beautiful sights of Italy, with detailed visits of Brescia, Amalfi, and Tivoli. Highlights of this tour include a Rome city tour, a visit to the ancient city of Herculaneum, a scenic drive along Mt. Vesuvius, and a boat cruise to the island of Ischia. If you are looking for a health package with thermal spa baths, there are several possible stops in famous Italian spas along the way, and these stops can be short or long according to your wishes. This itinerary may be nicknamed "Italy revisited", or "Italy out of the beaten track", or "Italian thermal spas and tourism". This tour assumes that you have already visited (or intend to visit in the future) Tuscany, Milan, Rome and the Vatican;
that is why little or no time is granted to these areas.
This privately guided and chauffeured tour in Italy can be redesigned to suit your specific interests, needs or timeframe. Unless you wish otherwise, your guide will take you to:
Milan - Brescia - Bagno di Romagna - Tivoli - Ostia Antica - Herculaneum - Positano - Amalfi Coast - Paestum - Velia - Sorrento - Ischia - Mt Vesuvius - Caserta - Rome
The Amalfi Coast offers spectacular views over incredible villages
Day
Suggested itinerary with departure from Milan and arrival in Rome (Rome-Amalfi Italy)
1
Milan
:
Your very own chauffeur picks you up from Milan international airport. We assume you have already visited Milan in the past (if not, see one of our other tours, i.e.
Best of Italy
or
North West Italy
). But you probably had missed the
Museo Civico di Archeologia
; the guide of A La Carte™ Italy Tour will show you this former monastery housing ancient jewelry and mosaics. Then, travel 60 miles to
Brescia
, formerly the Roman castrum of Brixia. Pope Paul VI and pianist Arturo Benedetti Michelangeli come from Brescia. 2 nights in Brescia.
In Milan, your tour guide will take you to the Archaeological Museum, which is located in an ancient convent. Here you can view the story of Mediolanum and the Etruscans.
2
Brescia
:

A gentle day unwinding in
Brescia
, and discovering its interesting history. Your A La Carte Italy Tours guide will show you through the city's castle, the foundations of which date back to the Roman times. The
Luigi Marzoli
museum displays fascinating arms and armour. A walk in the historic city of Brescia will lead us to the Roman theater at the
Tempio Capitolino
(73 AD). The
Duomo Nuovo
("New Cathedral") and
Duomo Vecchio
("Old Cathedral"), in Palladian and Romanesque styles, house beautiful sacred paintings and frescoes. The
Piazza della Loggia
is a Renaissance square is the site of the town hall built in 1492. Time permitting, we can head to
Lake Garda
, 30 miles away, for a scenic drive. 2nd night in Brescia.
Travel to Brescia, and view the Venetian-Visconti castle which is known as the "Falcon of Italy" due to its prominent hillside location. Walk through Brescia's historic city centre and visit the Tempio Capitolino, the Romanesque Duomo Vecchio, and the Renaissance square Piazza Della Loggia.
3
Bagno di Romagna
:
After breakfast, your A La Carte™ Italy Tour driver takes you to
Bagno di Romagna
, 200 miles away. This is an ancient Roman
spa resort
in the
Emilia-Romagna
region of Italy. Time to relax in the spa and hot waterfalls, we can also sightsee: 1000-year old Basilica of
Santa Maria Assunta
, Palazzo del Capitano (15th century; interesting exhibition about the morphology and geology of the area). Overnight in Bagno di Romagna.
In Bagno di Romagna, enjoy relaxing in spas and hot waterfalls. You can also visit the Palazzo del Capitano, and the 1000-year old church di Santa Maria Assunta built in Venetian-Byzantine style.
4
Tivoli
:
Enjoy more of the spa and hot waterfalls before leaving Bagno di Romagna. Travel through the Umbria region of Italy to Tivoli, near Rome. Visit
Villa Adriana
(Hadrian's Villa) in Tivoli. This is a is a large Roman archaeological site. Your A La Carte™ Italy Tour leader will explain that it was built as a country residence for the Roman Emperor. It is, in fact, a group of 30 buildings the ruins of which now cover an area of 260 acres. A
grotto
and a pool are still in good shape, as are some theatrical masks or art works excavated on site. Modern thermal baths are available in
Tivoli
, if you wish. 2 nights in Tivoli.
Your
private tour
of Hadrian's Villa in Tivoli will allow you to experience the luxury of classical 2nd century buildings with elements of Greek, Roman and Egyptian heritage within an expansive garden setting.
5
Rome
:
Spend the day relaxing in the thermal baths of Tivoli, or visit Rome. The
Roman Coliseum
(also called Colosseum or, in Italian,
Colosseo
) was built in 70 AD. It is an amphitheater. It could originally seat 80,000 people. It was used for gladiatorial games and other large scale shows in Roman times. Nearby, the
Fori Imperiali
(Roman Forum) is a group of contemporary temples' and basilicas' ruins. The Arch of Constantine is younger: built in 315 AD. Your A La Carte Italy Tours private guide will talk at length about its artwork and relief panels. The Palatine Hill is the next stop on our walk. The legend says that the Lupercal was located here. The Lupercal is the cave where
Romulus and Remus
, the mythological founders of Rome, were found by the female wolf that nursed them. See the
Bocca della Verita
("Mouth of Truth"). According to popular belief, if you place your hand in the mouth of this face carving and say a lie at that time, your fingers will be chopped off! Your walk takes you later to the Capitol Square (
Campidoglio
). It is a group of Museums on top of the Capitoline Hill. It is said that the first Romans settled the city from here in prehistoric times. The current Renaissance style buildings were mostly designed by Michelangelo. Your travel in time continues as we walk to the Trevi Fountain. This baroque construction dates back to 1732, but is fed by a much older canal, which is over 2,000 years old. Climb the Spanish Steps, so named because they led to a small Spanish enclave in Rome. 2nd night in Tivoli.
Experience a guided tour of the remains of the ancient Roman Coliseum. This stone amphitheatre was built in 70AD and used for gladiator games and shows. Nearby, you can also visit the contemporary temples of the Fori Imperiali.
6
Herculaneum
:
Discover the Roman remains of Ostia Antica, the harbor city of ancient Rome: warehouses, baths, sanctuaries and also the oldest synagogue in Europe, dating back to 41 AD. Let your A La Carte™ Italy Tour chauffeur drive you to ancient Greek settlement Herculaneum founded by Hercules.
Herculaneum
was founded by Hercules, and destroyed in the same eruption that annihilated Pompeii in 79 AD. We prefer to take our clients to Herculaneum (
Ercolano
in Italian) as if offers a more compact and less crowded picture than Pompeii. The ruins are impressive. See the ancient baths with their mosaic pavement, the changing rooms, frescoed ceilings and imagine the life here until the eruption of 79 AD. 4 nights in Positano.
Your trip to the ancient Roman town of Herculaneum, which was destroyed by the eruption of Mt. Vesuvius in 79 AD, will allow you to view the preserved remains of villas, pottery, mosaics, and carbonised furniture.
7
Amalfi coast
:
The
Amalfi Coast
is mainly made of rocky cliffs. Travel to the Amalfi township, which hangs in a spectacular way in a gorge dominated by the Mt Cerreto (4,000 feet). Its medieval narrow streets attract many visitors. It offers a unique mix of architectural styles reflecting the variety of cultures, which have been influenced by oriental civilizations since 6th century A.D. Amalfi is renowned for the huge lemons and the
limoncello
, a lemon liqueur. Your driver-guide will introduce you to churches (San Andrea) and museums, and drive you through spectacular natural features (gorge
Vallone di Furore
). 2nd night in Positano.
Travel to the town of Amalfi, and walk along its narrow medieval streets. View its unique mix of architecture including the 9th Century church of St Andrew which includes elements of Romanesque, Byzantine, Gothic, and Baroque design.
8
Paestum
:
Paestum
was founded by Greeks in the 7th century BC. Explore it with your personal A La Carte Italy Tour guide. Three doric temples were standing here in 6th century BC, and you will have the opportunity to see the Neptune and Ceres temples with a historic commentary supplied by your guide. An amazing find: the oldest best preserved doric temples today. Besides these temples, little is known about its Greek past. Visit Roman ruins in
Velia
(Marina di Ascea, Cilento nature reserve). Also a Greek city, Velia had a famous school of philosophy 6 centuries BC. 3rd night in Positano.
In the town of Marina di Ascea, you can enjoy a guided tour through the National Park of Cilento and see the remains of the city of Velia. Here, your guide will show you the ancient ruins of the town's Hellenistic Thermae, Acropolis, Agora and Roman Thermae. There are also remains of a Greek amphitheatre.
9
Ischia
:
Travel to Sorrento in your private A La Carte Italy Tours minivan.
Sorrento
historic city walk. Public gardens with view of the Bay of Naples. Cruise to
Ischia
. Discover that volcanic island with spectacular sights and pleasant climate. Natural spas and thermal mud are another attraction here (enjoy natural hot springs if you prefer to relax instead of sightseeing). With the help of your A La Carte™ Italy Tour guide, have a look at the castle, the Guevara Tower where Michelangelo stayed, the Soccorso Church. Return to Sorrento. 4th night in Positano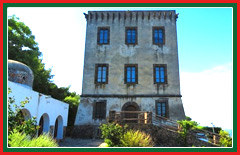 Enjoy a cruise to the volcanic island of Ischia and visit Guevara's Tower; a fortress-house built in 1433 and once lived in by the famous Renaissance artist, Michelangelo.
10
Mt Vesuvius
:
A scenic drive on the slopes of
Mt. Vesuvius
with panoramic views. On the way back to Rome in your private A La Carte™ Italy Tour minivan, let's stop in
Caserta
to see the Royal Palace, an enormous rectangular building sited around four courtyards interconnected by a spectacular vestibule, featuring the Queen's apartment (18th century). Drop-off at Rome international airport. This is the end of your "Rome-Amalfi Tour."
Experience a
guided, scenic tour
along the slopes of Mount Vesuvius, a strata-volcano famous for its eruption in 79 AD which destroyed the Roman cities of Herculaneum and Pompeii.
Rome-Amalfi tour of Italy in 10 days - prices
Type of Accommodation
Boutique
Luxury
If your party has
2-3 passengers
price per person is
US$ 11,250
US$ 17,500
If your party has
4-6 passengers
price per person is
US$ 9,600
US$ 14,800
Our prices include:
private driver-guide all along during your travel in Italy
minivan (limousine) with A/C
luggage handling
domestic flights in Italy (if mentioned in the itinerary)
train rides 1st class (if mentioned in the itinerary)
all entrance fees
accommodation (2 categories to choose from: Boutique or Luxury)
if you select Luxury accommodation, you will also have the best available "room" in that establishment ("suites" or "apartments" upon request)
continental breakfasts
light lunches (lunch is usually kept light and short so we can sightsee more)
dinners in gourmet restaurants (for a Boutique tour); or in best overall restaurants (for a Luxury tour); in all cases, dinner is a la carte (you choose any three items)
1/2 bottle per person of best local wine at dinner
all taxes and tolls
Our prices exclude:
international flights
insurance
optional activities
personal expenses
To book:
please send us an email detailing your dates and wishes to custom@italyprivateluxury.tours
or, if you prefer, please fill out the enquiry form
once you are satisfied with the suggested custom tour that we will design for you, we will ask you to pay a 30% deposit (usually between 3-12 months in advance)
the balance of the tour price (70%) is payable 60 days before the start of the tour
A La Carte Italy Tours accepts and MasterCard
Please do not send us your credit card details by email. In our correspondence, we will point you to a secure form.

Cancellations:
the 30% booking deposit is non-refundable
cancellations until 7 days before departure: 20% of balance refunded
no refund for cancellations received later
We will be happy to answer all your questions. There is no particular charge for a custom tour; if you wish a travel itinerary to suit a particular need, timeframe or interest, just ask us, and we will suggest a tour priced similarly to our advertised tours. Send us an email to custom@italyprivateluxury.tours .