Luxury limousine guided travel and vacations


Tour Italy with your own private
chauffeur guide

A La Carte Italy Tours offers exclusively private driver-guide tours. All our tours are custom-made to suit your needs, tastes and dates, and are run on an exclusive basis. We never mix passengers who do not know each other.
Amalfi Coast Tour
Our suggested itinerary for the Amalfi Coast Tour starts and ends in Rome, and has a duration of 10 days.
This tour showcases the West coast, with escorted excursions to the Amalfi Coast and some islands of the Bay of Naples. We also call to Tivoli, Mt. Vesuvius, and Tarquinia, and a private local guide shares his knowledge with you in Naples.
Enjoy the sights on this privately guided Italy tour.
This sample itinerary of the Amalfi coast of Italy can be redesigned to suit your specific interests, needs or timeframe. Unless you wish otherwise, your guide will take you to:
Rome - Amalfi coast - Capri - Ravello - Positano - Tarquinia - Tivoli - Sorrento - Ischia - Naples - Paestum - Caserta - Mt. Vesuvius - Herculaneum - Rome
Have a stroll in spectacular Positano, on the Amalfi Coast
Day
Our suggested itinerary begins and ends in Rome
1
Rome-Tivoli
:
Your very own chauffeur picks you up from
Rome
international airport. Travel to Tivoli, a historic Etruscan and Roman town 20 miles away from Rome. In classic times, it was called
Tibur
. During and after the Renaissance, famous villas were erected here. Visit
Villa d'Este
, UNESCO world heritage site (palace, gardens, fountains). It was built in the 16th century. Its garden and water features were later copied all over the world. No less than 500 jets and fountains ornate the richly decorated terraces. Your guide will explain the meaning of the coat of arms, the water organ, the
Fontana del Bicchierone
, and the marble nymphs. (Alternatively, if you prefer, visits in Rome.) 2 nights in Tivoli.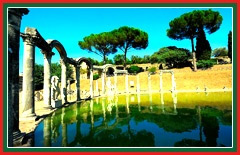 Tivoli was historically a summer retreat for ancient Romans, and your private tour here will guide you through its famous heritage sites including the luxurious 16th century renaissance Villa d'Este.
2
Day trip to Tarquinia
:

With this day trip to
Tarquinia
, you will have the opportunity to get acquainted with the Etruscan civilisation. The Etruscan necropolis is visited for its remarkable wall paintings over 2,600 years old. This is another UNESCO World Heritage Site. The tombs are often in characteristic mounds. What we know nowadays about the Etruscan civilisation comes in large part from illustrations found in these tombs. Return to Tivoli in your A La Carte™ Italy Tour limousine and see the
Villa Adriana
(Hadrian's Villa). This is a is a large Roman archaeological site. It was built as a country residence for the Roman Emperor. It is, in fact, a group of 30 buildings the ruins of which now cover an area of 260 acres. A
grotto
and a pool are still in good shape, as are some theatrical masks or art works excavated on site. (Alternatively, if you prefer, visits in Rome.) 2nd night in Tivoli.
Tarquinia is one of Lazio's Etruscan towns. Here you will experience a private tour through the medieval centre, and visit the necropolis and its fresco tombs.
3
Napoli
:

Highway transfer to
Naples
, the capital of the Italian Southern region of Campania. The city is located by the giant Vesuvius volcano, on a scenic wide bay called the Bay of Naples. One can say that Naples is a summary of European history: it certainly contains a wealth of cultural, historic or artistic heritage. It is also one of the largest cities on the Mediterranean. Discover this bustling city center in all serenity with your own driver (you'll be relieved not to have to drive!) and see the Square del Plebiscito, the San Carlo theater, the Castel Nuovo, Royal Palace. From the Posillipo hill, enjoy the panorama of the Bay of Naples. Spot the Amphitheater of Flavius (one of Italy's largest). Lunch in Naples - that may be some research on the
pizza
theme, as this is the pizza's birthplace! Your driver takes you on some spectacular and windy roads to Positano, on the Amalfi peninsula. 4 nights in Positano
Naples is one of the oldest cities in Italy. Your trip here will allow you to encounter the remnants of the city's history, including medieval castles and classical ruins in Renaissance and Baroque styles.
4
Cruise to Capri Island
:

This morning, we catch a boat to the island of
Capri
. Its 7,000 inhabitants live in a delightful hilly village with narrow passageways and few narrow streets. Your A La Carte
Italy Tour guide
will tell you the stories of the place. The island has been known since antiquity for its beauty, and it has been a holiday resort since the Roman times. The
Blue Cave
(Grotta Azzurra) is a spectacular cave which can be accessed from the sea only - weather and tide permitting. We will also have a look at the Villa San Michele. In the afternoon, we return to Positano and relax. 2nd night in Positano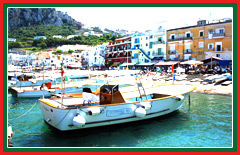 At the Mediterranean island of Capri, your personal guide will show you through the Faraglioni (rock formations), the famous Blue grotto cave, and the Villa San Michele which is furnished with an array of art pieces from antiquity to the 20th century.
5
Discover the Amalfi coast
:
The
Amalfi Coast
is mainly made of rocky cliffs. Travel to the Amalfi township, which hangs in a spectacular way in a gorge dominated by the Mt Cerreto (4,000 feet). Its medieval narrow streets attract many visitors. It offers a unique mix of architectural styles reflecting the variety of cultures, which have been influenced by oriental civilizations since 6th century A.D. Amalfi is renowned for the huge lemons and the
limoncello
, a lemon liqueur. Your driver-guide will introduce you to churches (San Andrea) and museums, and drive you through spectacular natural features (gorge
Vallone di Furore
). 3rd night in Positano.
The Amalfi Coast stretches along the coastline of the southern coast of the Sorrentine Peninsula. Your trip here will guide you through the medieval streets of the Amalfi township, and the 11th century cathedral of Sant'Andrea.
6
Excursion to Sorrento and Ischia
:
Cross the peninsula to
Sorrento
. The legend says that sirens that had tried to tempt Ulysses were living here. The gardens are beautiful here, so here is an opportunity for a walk. Then, relax on a cruise to
Ischia
. Discover that volcanic island with spectacular sights and pleasant climate. Natural spas and thermal mud are another attraction here. With the help of your A La Carte™ Italy Tour guide, have a look at the castle, the Guevara Tower where Michelangelo stayed, the Soccorso Church. Return to Sorrento. 4th night in Positano
Be driven along the Sorrento coast and experience the Piazza Tasso and historic alleyways of the town of Sorrento. Then, travel by ferry to the volcanic island of Ischia where you will be guided through the famous Soccorso church.
7
Ravello and Paestum
:
The Villa Rufolo in
Ravello
had inspired Richard Wagner in Parsifal. It was built in 1270. In the same town, the Villa Cimbrone offers its intriguing "Terrace of the Infinite." We'll also travel to the Ravello cathedral (Duomo) before leaving for
Paestum
. Paestum was founded by Greeks in the 7th century BC. Explore it with your personal A La Carte Italy Tour guide. Three doric temples were standing here in 6th century BC, and you will have the opportunity to see the Neptune and Ceres temples with a historic commentary supplied by your guide. An amazing find: the oldest best preserved doric temples today. Besides these temples, little is known about its Greek past. 2 nights in Paestum area.
Ravello is a luxurious resort town where your Italian guide will accompany you as you explore famous cliff side gardens; notably the Villa Cimbrone, a medieval estate.
8
Paestum
:
Today, we suggest to take you to the
Castelcivita
caves. It was the site of a prehistoric dwelling about 40,000 years ago. It is a karst cave, with typical limestone formations. Let's enjoy a waterfall, the
Grande Cascata
, and also a wildlife sanctuary, the
The Oasi Naturalistica di Persano
, if desired. Traveling around the wetlands and local birds, a very diverse ecosystem. Return to Paestum for the night and enjoy the sandy beach, or stay in the mountain ranges of the Cilento, a Unesco biosphere reserve. 2nd night in Paestum Area.
Paestum is an archaeological site, south of the Sorrento peninsula where three doric temples have stood since the 6th century BC. Here you can enjoy a personalised tour and private commentary of these historical landmarks.
9
Ercolano - Roma
:
Herculaneum
was founded by Hercules, and destroyed in the same eruption that annihilated Pompeii in 79 AD. We prefer to take our clients to Herculaneum (
Ercolano
in Italian) as if offers a more compact and less crowded picture than Pompeii. The ruins are impressive. See the ancient baths with their mosaic pavement, the changing rooms, frescoed ceilings and imagine the life here until the eruption of 79 AD. Ascend
Mt. Vesuvius
and have one last glimpse over the Bay of Naples. On the way back to Rome in your private A La Carte™ Italy Tour minivan, let's stop in Caserta to see the Royal Palace, an enormous rectangular building sited around four courtyards interconnected by a spectacular vestibule, featuring the Queen's apartment (18th century). Overnight in Rome.
Herculaneum was founded by Hercules, and was destroyed in the same eruption as Pompeii in 79 AD. Travel to the impressive ruins of this ancient civilisation with your
private guide
and view the remains of frescoed ceilings, ancient baths and mosaics.
10
Rome
:
For this last day, we have left some free time available for you to shop or relax. If you prefer, you can sightsee, as our guide is at your disposal. We will drive you to the airport in time for your outbound flight. A La Carte Italy Tours wishes you a pleasant return flight home and many good memories from your
Italian
trip. We hope to see you back next year?
Rome, capital of Italy, has an extensive array of art, architecture and culture for you to experience on your luxury trip, ranging from the ancient ruins of the Colosseum, to the impressive Vatican City; headquarters of the Roman Catholic Church.
Amalfi coast of Italy tour in 10 days - prices
Type of Accommodation
Boutique
Luxury
If your party has
2-3 passengers
price per person is
US$ 11,450
US$ 16,700
If your party has
4-6 passengers
price per person is
US$ 9,700
US$ 14,980
Our prices include:
private driver-guide all along during your travel in Italy
minivan (limousine) with A/C
luggage handling
domestic flights in Italy (if mentioned in the itinerary)
train rides 1st class (if mentioned in the itinerary)
all entrance fees
accommodation (2 categories to choose from: Boutique or Luxury)
if you select Luxury accommodation, you will also have the best available "room" in that establishment ("suites" or "apartments" upon request)
continental breakfasts
light lunches (lunch is usually kept light and short so we can sightsee more)
dinners in gourmet restaurants (for a Boutique tour); or in best overall restaurants (for a Luxury tour); in all cases, dinner is a la carte (you choose any three items)
1/2 bottle per person of best local wine at dinner
all taxes and tolls
Our prices exclude:
international flights
insurance
optional activities
personal expenses
To book:
please send us an email detailing your dates and wishes to custom@italyprivateluxury.tours
or, if you prefer, please fill out the enquiry form
once you are satisfied with the suggested custom tour that we will design for you, we will ask you to pay a 30% deposit (usually between 3-12 months in advance)
the balance of the tour price (70%) is payable 60 days before the start of the tour
A La Carte Italy Tours accepts and MasterCard
Please do not send us your credit card details by email. In our correspondence, we will point you to a secure form.

Cancellations:
the 30% booking deposit is non-refundable
cancellations until 7 days before departure: 20% of balance refunded
no refund for cancellations received later
We will be happy to answer all your questions. There is no particular charge for a custom tour; if you wish a travel itinerary to suit a particular need, timeframe or interest, just ask us, and we will suggest a tour priced similarly to our advertised tours. Send us an email to custom@italyprivateluxury.tours .