Luxury minivan guided travel and vacations


Discover Italy with your own private
chauffeur guide

A La Carte Italy Tours offers exclusively private driver-guide tours. All our tours are custom-made to suit your needs, tastes and dates, and are run on an exclusive basis. We never mix passengers who do not know each other.
Rome-Florence-Venice tour
The Rome - Florence - Venice tour starts and ends in Rome, and has a duration of 14 days.
This privately guided Italy tour emphasizes the cities of Rome, Florence and Venice, with visits to some of the most historic attractions in Italy. Included in this tour are the Pantheon, Coliseum, Vatican museums and Statue of David. In addition, a gondola ride through the scenic canals of Venice and a winery tour in Chianti Hills are included. As with all itineraries run by A La Carte™ Italy Tours, this one is made for you exclusively.
Your own minivan and your own chauffeur and guide are at your disposal all along.
This privately guided and chauffeured tour in Italy can be redesigned to suit your specific interests, needs or timeframe. Unless you wish otherwise, your guide will take you to:
Rome - Vatican - Tivoli - Todi - Assisi - San Marino Republic - Ravenna - Pomposa Abbey - Venice - Bologna - Florence - Chianti Hills - Lucca - Pisa Siena - San Gimignano - Rome
Walking towards the interesting Mausoleum of Theoderic in Ravenna (520 AD)
Day
Our suggested itinerary begins and ends in Rome
1
Rome
:
Your very own chauffeur picks you up from Rome international airport. On the
Piazza Venezia
, the
Palazzo Venezia
, was once the embassy of the Republic of Venice. This is a fine
Renaissance
building. It contains art galleries with tapestries, pottery and sculptures from the early Christian era onwards. Famous occupiers of the building were Pope Pius IV (16th century) and Mussolini. Wonder at the
Monumento a Vittorio Emanuele II
with its majestic stairways; it offers an in-town vantage point and is an example of unusual Roman pompous architecture. Your travel in time continues as we walk to the Trevi Fountain. This baroque construction dates back to 1732, but is fed by a much older canal, which is over 2,000 years old. Climb the Spanish Steps, so named because they led to a small Spanish enclave in Rome. In the evening, enjoy some typical Roman foods in one of the gourmet restaurants hand-picked by A La Carte Italy Tours. 4 nights in Rome.
In Rome, your guide will take you to view one of the most famous fountains in the world, the Trevi Fountain. The baroque construction of this fountain dates back to 1732, however, the history of the canal that feeds is much older and it stands at the site of aqueducts that supplied water to ancient Rome.
2
Rome
:
Enjoy a full day in Rome with the expert guide of A La Carte™ Italy Tour. The
Roman Coliseum
(also called Colosseum or, in Italian,
Colosseo
) was built in 70 AD. It is an amphitheater. It could originally seat 80,000 people. It was used for gladiatorial games and other large scale shows in Roman times. Nearby, the
Fori Imperiali
(Roman Forum) is a group of contemporary temples' and basilicas' ruins. The Arch of Constantine is younger: built in 315 AD. Your A La Carte Italy Tours private guide will talk at length about its artwork and relief panels. The Palatine Hill is the next stop on our walk. The legend says that the Lupercal was located here. The Lupercal is the cave where
Romulus and Remus
, the mythological founders of Rome, were found by the female wolf that nursed them. See the
Bocca della Verita
("Mouth of Truth"). According to popular belief, if you place your hand in the mouth of this face carving and say a lie at that time, your fingers will be chopped off! Your walk takes you later to the Capitol Square (
Campidoglio
). It is a group of Museums on top of the Capitoline Hill. It is said that the first Romans settled the city from here in prehistoric times. The current Renaissance style buildings were mostly designed by Michelangelo. 2nd night in Rome.
Your
private tour
of Rome will allow you to experience the Fori Imperiali. Built between 46 BC and 113AD, this series of monumental squares includes the forum of Caesar, the forum of Augustus, and the Temple of Mars Ultor, and was the centre of political activity in ancient Rome.
3
Vatican
:
A visit to Rome would not be complete without traveling to the Vatican. The world's smallest state is a Roman enclave. St Peter's Square had been designed by Bernini. It took 120 years to build the Basilica. It is now one of the holiest sites in the world. According to tradition, St Peter (one of the twelve apostles of Jesus) is buried here. Michelangelo's Pieta, a sculpture showing the body of Jesus held his mother Mary after the crucifixion, is displayed here. Your A La Carte™ Italy Tour guide takes you on a private visit to the
Vatican Museums
where pieces of art accumulated by popes over the ages are on display. The
Sistine Chapel
, with its ceiling painted Michelangelo, is the most famous part of these Museums. The Last Judgment by Michelangelo is also to be found here. The entire ceiling had been restored in 1994, and those who were used to its former dull colors protested against the new colors being too bright; however, restorers are confident that their work corresponds to the original. 3rd night in Rome.
Visit Vatican city and view the renaissance architecture of the 16th Century Basilica of Saint Peter. Enjoy a private tour of the luxurious Vatican palace and the Vatican Museums where you can experience Michelangelo's famous Sistine Chapel ceiling.
4
Tivoli
:

Travel out of Rome to nearby Tivoli for the day. Your personal A La Carte Italy Tours minivan takes you to the
Villa d'Este
. It was built in the 16th century and remains exemplary of Italian building and garden design. Over a hundred fountains, balconies, terraces and a grotto are some of the features of these heritage gardens. A short trip away is the
Villa Adriana
- Hadrian's Villa. Built in the 2nd century AD it is, in fact, a group of 30 houses. Hadrian, who was very well traveled, used designs spotted during his travels to Greece or Egypt. Many sculptures had been found on site. One of them is the famous Discobolus, a discus thrower. 4th night in Rome.
Your tour of the Villa d'Este in Tivoli will allow you to experience a fine example of luxury, renaissance culture. View its 16th century Italian garden adorned with hundreds of fountains, balconies, and terraces, and see the frescoed vaulted ceilings within the Villa.
5
Assisi
:

Your A La Carte Italy Tours itinerary travels to the town of
Todi
. The
Piazza del Popolo
, with the oldest town hall in Italy, the
Palazzo dei Priori
with its trapezoid tower, the
Palazzo del Capitano
in Italian Gothic, are the focal points of your city walk. The
Piazza del Popolo
is so beautiful and typical of Italy, that it is often used by movie productions as a background. After these visits, travel to Assisi, which is the town of
St Francis
(1181-1226). St Francis had turned around the general perception of nature and wildlife, which were not highly regarded in his days. His love for animals is at the origin of legends that tell how he would preach to birds or tame wolves. He preached humility and poverty, and became such a legend after his death, that churches commemorating his life were paradoxically splendidly decorated - very much unlike what he would have liked! That splendor is the focal point of attraction in
Assisi
. Travel by foot to the Basilica with its 13th century frescoes. Listen to your A La Carte Italy Tours guide explanations about the Rocca Maggiore medieval castle which dominates the town. Enter the
Basilica di Santa Chiara
where Saint Clare of Assisi is buried. She had founded the Clare's Order of Poor Ladies and, like St Francis, was committed to poverty. Overnight in Assisi.
Travel to the town of Todi, and experience a personally guided tour of the Piazza del Popolo. Here you can view the Italian Gothic architecture of the  Palazzo dei Priori and the Palazzo del Capitano.
6
San Marino
:
Trip to
San Marino
Republic. This is a tiny independent country, an enclave within Italy, with a population of 30,000. It has been a sovereign state since 301 AD. A private guide will lead you to the Palazzo Pubblico, guarded by the famous Fortress Guards. See the Basilica di San Marino, the Rocca Guaita fortress (built in the 11th century), Rocca Cesta and Rocca Montale. Then, your A La Carte™ Italy Tour driver takes you to
Ravenna
. We visit Ravenna: Basilica of St Vitus (Byzantine, 546 AD), Galla Placidia Tomb (5th century),
Battistero
Neoni (mosaics dating back to 500 AD) and Tomb of Italian poet Dante Alighieri. Overnight in Ravenna area.
San Marino is an enclave within Italy; discover it with your own
private guide
. View the neoclassical architecture and Corinthian columns of the Basilica di San Marino, and visit the 11th century Rocca Guaita fortress.
7
Pomposa Abbey
:
In Ravenna, visit Romanesque Pomposa Abbey: started in the 9th century, it was home to Guido d'Arezzo, who invented the modern musical notation. Your A La Carte™ Italy Tour guide will drive you to
Venice
, we start with a short city walk, custom made for A La Carte Italy Tours, to get acquainted with the city known as the most serene. St Mark's Basilica has five domes, a balustrade decorated by a group of bronze horses, impressive portals. The Doges Palace and its arcades and the famous Bridge of Sighs. It is said that the bridge gained its name from the prisoners that were taken through it to their cells, and sighed at their last view of beautiful Venice. 2 nights in Venice.
Enjoy a tour of the 9th century, Romanesque Pomposa Abbey and view the frescos from the 14th-century school of Vitale that adorn its walls, along with fragments of mosaic flooring, luxurious terracotta friezes, and, in the chapter house, frescos from the Giotto school.
8
Venice
:
There is no better way to start the discovery of Venice than by private water taxi. We will explore the Grand Canal, and also the smaller, less crowded canals. You will not believe your eyes, as the sights are exactly those of the painting by Canaletto. Only A La Carte™ Italy Tour offers such a personalized tour. After the boat ride, it's time for a leisurely stroll. Admire the
Rialto Bridge
. It is a stone bridge, with shops on both sides, built in 1591; in fact, a replica of a previous wooden bridge. Later along our walk, see the
Santa Maria dei Frari
church, and the
Palazzo Querini Stampalia
with a fantastic gallery. Experience a
vaporetto
ride to Murano Island and see how a glass blowing factory operates. To conclude the day, a private gondola ride with music and songs is maybe an idea? 2nd night in Venice.
In Venice, the home of the famous Grand canal, experience a guided tour via private water taxi, and on foot to various cultural landmarks such as Teatro la Fenice, the Santa Maria dei Frari church and the Rialto Bridge.
9
Bologna
:
Bologna
is a city of nearly 400,000 inhabitants. Composers Ottorino Respighi, Gioachino Rossini and Giuseppe Torelli lived here. Bologna is home to Ducati bikes, Lamborghini and Maserati automobiles. The city's saint is
San Petronio
(5th century). We logically start by visiting his cathedral. Listen to historic commentaries by your A La Carte™ Italy Tour local guide on the Main Square and the
Neptune
Square. Neptune's fountain is of monumental style, and the locals have nicknamed it "The Giant". It was built in 1565. Neptune's trident became also the logo of local sports car manufacturer Maserati. End the day by a comfortable drive to Florence area. 5 nights in Florence / Fiesole / Chianti area.
Bologna is home of luxury vehicles including Maserati, Ducati, and Lamborghini. Visit the Basilica of San Petronio and view the basilica which is a dedication to Saint Petronius; the patron saint of the city.
10
Florence
:

We dedicate the day to a tour of
Florence
. As with all our other tours, this one is made exclusively for you, and is unique to A La Carte™ Italy Tour. The
Basilica di Santa Maria del Fiore
is our departure point for the city walking tour. It is Florence's cathedral. Its building started in 1296. It is made of marble of various colors. Nearby, the 14th century
Palazzo Vecchio
is a fortress-shaped town hall. It is located on the
Piazza della Signoria
square. The
Loggia della Signoria
is located on the same square. It features allegorical figures, a statuary and wide arches that were admired by Michelangelo. Next door, there is also a copy of Michelangelo's David. The original can be seen at the
Accademia Gallery
. We'll also have a look at the
Basilica di Santa Croce
(Basilica of the Holy Cross) with the with tomb of
Michelangelo
. 2nd night in Florence / Fiesole / Chianti area.
In Florence, you can experience a guided tour of the Gothic Renaissance style, Basilica di Santa Croce which is the resting place of many famous Italians including Michelangelo, Galileo, Machiavelli, Foscolo, Gentile and Rossini.
11
Chianti Hills
:
It is time to travel to the famous Tuscan hills and
Chianti
wine birthplace. Your A La Carte Italy Tours chauffeur takes you on a private discovery of this heritage area. Greve is a town in the
Chianti
area. It has an "out the beaten track" feel, although it is only 20 miles away from Florence. There is a Franciscan monastery, and a square that is actually... triangular in shape (not a very common occurrence on the Old Continent). Nearby, the tiny hilltop village of
Montefioralle
dates back to 931 AD. It is famous for its wines. After a typical lunch during which your A La Carte Italy Tours guide will introduce you to the specificities of local produce, visit a wine cellar to learn more about the
Denominazione di Origine Controllata e Garantita
label, the
Chianti Classico
,
Chianti Superiore
and
Chianti Classico Riserva
wines, the straw basket bottles, the
Sangiovese
,
Canaiolo
and
Malvasia bianca
grapes. 3rd night in Florence / Fiesole / Chianti area.
Your custom tour of the Tuscan hills will take you to the village of Montefioralle which dates back to 931 AD. Here you can experience the famous wines of the region including the Chianti Classico, Chianti Superiore and Chianti Classico Riserva.
12
Pisa
:
Traveling to Pisa and its
Leaning Tower
, yet another UNESCO World Heritage Site. Your private A La Carte™ Italy Tour guide will point out the wonders of the
Piazza del Duomo
(Cathedral Square), baptistery and cemetery. The Leaning Tower is in fact a bell tower next to the church. It began leaning early after the construction in 1173, because the foundations had been improperly prepared. Your A La Carte Italy Tours minivan takes you then to
Lucca
, a city dating back to the Etruscan times. Lucca is famous for its walls that surround the historic part of the city. You will have the opportunity to explore the Cathedral, the Church of
San Michele in Foro
, the Guinigi Tower. This tower was built for the Guinigi family in 14th century. It has gothic style windows. A distinct feature are the oak trees growing on the roof. It was a tradition to plant oak tres on rooftops, but few of these roofs (understandably!) survived so many centuries. 4th night in Florence / Fiesole / Chianti area.
Travel to the Etruscan city of Lucca, famous for its walls that surround its historic centre. Visit the 14th Century Torre Guinigi and view its gothic style windows, and the unique oak trees which grow from the roof.
13
San Gimignano
:
Today we head into the Tuscan countryside to the very picturesque village of
San Gimignano
. The cathedral was built in 1148 and has breathtaking frescoes in the Siena style. The village had 70 odd tower-houses (some as high as 150 feet) as symbols of the wealth and power of their ancestral owners. In the past, other towns of Italy also had their towers, but they have mostly been destroyed; San Gimignano has preserved 14 of its towers. The village in its current form dates back to the 10th century AD, although it has much older origins dating back to pre-historic times. Your A La Carte Italy Tours guide will take you on a walk that includes the
Piazza della Cisterna
. It is the historic and commercial center of town. The
Torre del Diavolo
and
Torri Ardinghelli
towers, the octagonal cistern, and the torture museum are all within that square. Relax in a café, walk to catch more sights, or learn the infinite stories of the area. Study the local Vernaccia wine, search for the best panoramic view from the Rocca citadel. 5th night in Florence / Fiesole / Chianti area.
In the village of San Gimignano, enjoy a personally guided tour through the enclosed, 13th century Piazza della Cisterna. Experience the luxurious array of 14th century frescoes that decorate the Collegiata di Santa Maria Assunta, and the Torre del Diavo and Torri Ardinghelli towers.
14
Rome
:
Reposition back to Rome. You can choose between a First Class train ride, or a highway transfer. You may wish to spend some time for last minute souvenir shopping, or visit one last museum or tourist attraction, with the assistance of your private A La Carte Italy Tours guide. Drop-off at international airport. This is the end of your "Rome-Florence-Venice Tour" in Italy.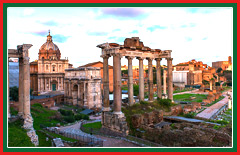 Your private, guided tour of Rome will allow you to experience the ancient remains of the Roman forum and the nearby 1st Century AD Roman Coliseum. Continue from here onto Palatine hills, and you can visit the legendary Bocca Della Verita.
Rome - Florence - Venice tour in 14 days - prices
Type of Accommodation
Boutique
Luxury
If your party has
2-3 passengers
price per person is
US$ 17,320
US$ 28,000
If your party has
4-6 passengers
price per person is
US$ 14,720
US$ 23,500
Our prices include:
private driver-guide all along during your travel in Italy
minivan (limousine) with A/C
luggage handling
domestic flights in Italy (if mentioned in the itinerary)
train rides 1st class (if mentioned in the itinerary)
all entrance fees
accommodation (2 categories to choose from: Boutique or Luxury)
if you select Luxury accommodation, you will also have the best available "room" in that establishment ("suites" or "apartments" upon request)
continental breakfasts
light lunches (lunch is usually kept light and short so we can sightsee more)
dinners in gourmet restaurants (for a Boutique tour); or in best overall restaurants (for a Luxury tour); in all cases, dinner is a la carte (you choose any three items)
1/2 bottle per person of best local wine at dinner
all taxes and tolls
Our prices exclude:
international flights
insurance
optional activities
personal expenses
To book:
please send us an email detailing your dates and wishes to custom@italyprivateluxury.tours
or, if you prefer, please fill out the enquiry form
once you are satisfied with the suggested custom tour that we will design for you, we will ask you to pay a 30% deposit (usually between 3-12 months in advance)
the balance of the tour price (70%) is payable 60 days before the start of the tour
A La Carte Italy Tours accepts and MasterCard
Please do not send us your credit card details by email. In our correspondence, we will point you to a secure form.

Cancellations:
the 30% booking deposit is non-refundable
cancellations until 7 days before departure: 20% of balance refunded
no refund for cancellations received later
We will be happy to answer all your questions. There is no particular charge for a custom tour; if you wish a travel itinerary to suit a particular need, timeframe or interest, just ask us, and we will suggest a tour priced similarly to our advertised tours. Send us an email to custom@italyprivateluxury.tours .