Luxury limousine guided travel and vacations


Tour Italy with your own private
chauffeur guide

A La Carte Italy Tours offers exclusively private driver-guide tours. All our tours are custom-made to suit your needs, tastes and dates, and are run on an exclusive basis. We never mix passengers who do not know each other.
What We Do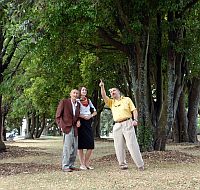 A tour company in Italy committed to making your chauffeured vacation in Italy the best travel experience you will ever have.
A La Carte Italy Tours organizes custom-made guided and chauffeured tours for small groups and individuals wishing to discover Italy in the most meaningful way.

Although all of our tours are custom-made and you are free to choose which standards you require, we usually suggest standard chauffeured itineraries of impeccable quality that include: 3-5 star accommodation, all meals and dinners in fine cuisine restaurants, all entrance fees, tolls and taxes. Contrary to most other tour companies, our chauffeured tours usually include everything with the sole exception of personal expenses.


As we travel in a small, guided group in Italy (usually a couple or up to 6 friends traveling together) we take full advantage of the time available so that your expense is fully justified. There is no need to wait 15 minutes until everyone has left or joined the bus, as we travel exclusively in private chauffeured vehicles (large sedans, limousines or minivans).



There is also no need to be accommodated in large, faceless hotels, in which the only quality offered is a large quantity of rooms. As a small group, we can enjoy fine, picturesque hotels in converted private estates or Bed & Breakfasts, allowing the tourist to get to know and experience Italy in the best possible way.


All in all, a private small group tour in Italy allows the tourist to see much more than a large group tour. Not to mention, your personal guide is always at hand providing comfort and convenience by assisting you with a difficult staircase, translating a menu written in Italian or pointing out the aspects of wonder and natural history of Italy.



Whatever your chosen itinerary, you can be assured that we will look after you from the beginning to the end of your chauffeured tour in Italy to ensure that you have an unforgettable travel experience.