Luxury minivan guided travel and vacations


Discover Italy with your own private
chauffeur guide

A La Carte Italy Tours offers exclusively private driver-guide tours. All our tours are custom-made to suit your needs, tastes and dates, and are run on an exclusive basis. We never mix passengers who do not know each other.
Weather and Climate of Italy
Italy's climate is one of the most hospitable in the world, with a general pattern of warm, dry summers and mild winters. There are regional variations, however, ranging from the more temperate northern part of the country to the Mediterranean south. Summers are hot and dry along the coastal areas, especially as you move south, and cool in the major mountain areas - the Alps and Apennines. Winters are mild in the south of the country, Rome and below, but in the north they can be at least as cold as most places in the northern hemisphere, especially across the plains of Lombardy and Emilia-Romagna, which can be very inhospitable in January.

Current weather across Italy

When to Go
If you're planning to visit fairly touristy areas, you may wish to avoid July and August, when the weather can be too hot and the crowds the most congested. August is when Italians go on holiday so expect the resort areas to be especially crowded and the major historic cities - Rome, Florence, Venice - to be slightly artificial as the only people around are fellow tourists. The nicest time to visit, in terms of the weather and lack of crowds, is April to late June, or September and October, wonderful timing to enjoy
Italy on a private chauffeur-driven tour
. Below are some climate graphs for a few of the major cities in Italy.
Average temperatures in main Italian centers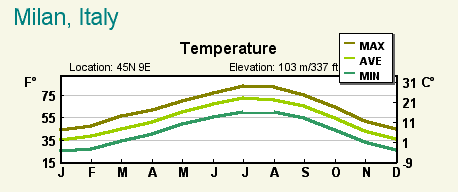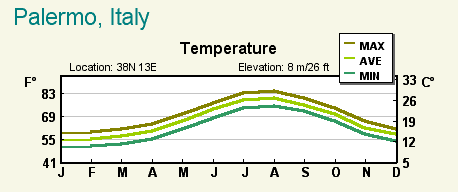 ---
---
Relax and enjoy traveling on your chosen
privately guided Italy tour
.
---
---