Luxury minivan guided travel and vacations


Discover Italy with your own private
chauffeur guide

A La Carte Italy Tours offers exclusively private driver-guide tours. All our tours are custom-made to suit your needs, tastes and dates, and are run on an exclusive basis. We never mix passengers who do not know each other.
Our Tour Vehicles
Modern, fast and comfortable

For standard tour itineraries described on this website, A La Carte Italy Tours uses impeccable, late model minivans. All of our cars have air conditioning.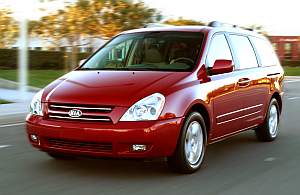 If your private tour includes your family or friends and you need more space, we also have very comfortable minibuses which can accommodate up to 9 passengers and their luggage.
Whereas the President of the Republic or the Prime Minister are still usually officially transported with bullet-proof limousines, businessmen and tourists on quality tours have systematically privileged the minivan. A minivan is more practical than the usual limousine. It is easier to work on board, because the communication is easy between front
and rear. A specialist local guide can take place on the last row of seats, and his comments will be heard throughout the minivan. Up to seven adults can take place in a minivan, and have a much better view than from a limousine.
The demise of the traditional limousine has been a reality of the automobile market for a long time already, where the share of the minivans is unstoppable.
All other vehicles are available upon request: wheelchair vans with ramp or lift, various mobility vehicles (accessible tours for disabled clients are a part of our business), etc.


---
Did you know?
→ In 1924 Mr Puricelli, founder of the Strade e Cave company, built the world's very first motorway - a divided road (also called expressway, freeway, autoroute or autobahn). On a motorway, there is always a central reservation (or median) - an area which separates opposing lanes of traffic. That first motorway joins Milan to Varese in Italy (about 50 miles). Up until 1924, Germany and the USA had planned building such roads, but had not actually done them.


→ The Fiat 500 was launched in 1957. The goal of the Italian car maker Fiat was to build an extremely light, economical and fast car. The Fiat 500 had a two cylinder engine with a minuscule capacity of 500cc (30 cu in). It was inspired by its Italian ancestor the Topolina, which had been launched in 1936. The Fiat 500 was a great success: 3.6 million have been sold until the car was retired from production in 1975. We can promise that your private tour in Italy will take place in a vehicle better than that... but if you insist, we will gladly organize a ride in this Italian automotive icon to satisfy your curiosity!