Luxury minivan guided travel and vacations


Discover Italy with your own private
chauffeur guide

A La Carte Italy Tours offers exclusively private driver-guide tours. All our tours are custom-made to suit your needs, tastes and dates, and are run on an exclusive basis. We never mix passengers who do not know each other.
Who We Are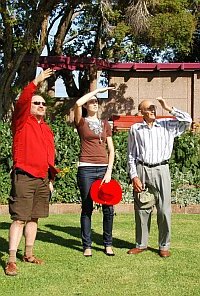 Hello and welcome to Italy, one of the world's most beautiful and historic countries. Benvenuti!
Please allow us to introduce ourselves. We are a small independent group of driver-guides and chauffeurs, all dedicated to Italy and excellence in service. We are fluent in English and Italian and share one passion: to offer you the best possible service and tour experience in Italy.
We usually do not wear fancy suits, white gloves or chauffeur's hats, because we want you to feel 100% relaxed on your holiday. However when circumstances demand, we will always dress appropriately.
Many of our clients are Americans, and over the years we've learned a lot about specific requests and tastes. This knowledge allows us to maximize the satisfaction received on one of our
Italian tours
.
We are perfectionists and our tours are always organized to the smallest detail. This might be due to our Swiss heritage, or our watchmaker's side (our company first started in Switzerland).
Besides architecture and history, our interests and hobbies include nature (plants, trees, birds), classical music, and especially fine cuisine. We never miss an opportunity to sample the latest creation of a great chef and share it with our clients on our
privately guided Italy tours
.
We are convinced that it is impossible to organize quality tours for large groups. Therefore, we specialize in
small group and individual tours in Italy
. Discoveries that can be made in a small group with chauffeur are much richer and more numerous. Because no one can pretend to have an exhaustive knowledge of Italy, we complement our commentaries with ones provided by local, knowledgeable guides, who are all specialized in their specific region or subject. Our desire is make sure that you will get to know and love Italy, and we are always delighted when our clients come back to allow us to chauffeur them for a second or third tour.
We look forward to accompanying you on your discovery of Italy with your own chauffeur.