Luxury limousine guided travel and vacations


Tour Italy with your own private
chauffeur guide

A La Carte Italy Tours offers exclusively private driver-guide tours. All our tours are custom-made to suit your needs, tastes and dates, and are run on an exclusive basis. We never mix passengers who do not know each other.
Best of Northern Italy Tour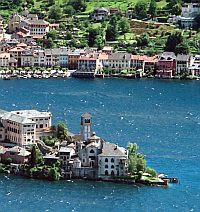 This Best of Northern Italy suggested travel itinerary, with departure and arrival in Milan, has a duration of 15 days. This itinerary highlights northern Italy, with escorted excursions in Venice, Milan, Parma, and Stresa. You will be able to admire Leonardo da Vinci's "The Last Supper", and to travel around the scenic lakes of northern Italy. Your A La Carte Italy Tours guide will organize wine tasting and a gondola ride on the incredible canals of Venice. You will travel throughout Piedmont, Lombardy, Trentino-Alto Adige / Sudtirol, Veneto, and Emilia Romagna Italian regions.
As all our tours, this itinerary can be a custom-made tour in Italy to suit your own interests, needs or timeframe. Unless you wish otherwise, your guide will take you to:
Milan - Lake Orta - Stresa - Como - Isole Borromee - Lake Maggiore - Bergamo - Verona - Lake Garda - Pomposa Abbey - Padova - Venice - Ravenna - Maranello - Bologna - Parma - Modena - Milan
As on all our tours, optional activities like a Ferrari ride, are available upon request
Day
Our suggested itinerary begins and finishes in Milan
1
Milan
:

Your personal A La Carte Italy Tours chauffeur guide picks you up from Milan international airport.
Milan
is home to 1.3 million people. Fashion, fine automobiles, famous music and book publishers come from here. For many centuries, it has been one of the wealthiest cities on earth. A view of the interior and rooftops of the
Duomo
(cathedral) is not to be missed. Your private guide will explain the nave, flying buttresses, portals, belfries and other historic, architectural and artistic features. The cathedral can hold 40,000 people. Next door is the Gallery
Vittorio Emanuele II
. This is a 150-year old luxury shopping center. Its glass top was one of the first of its kind and size. The "La Scala"
Opera-House
is on the other side of the gallery. This is where operas by Puccini, Verdi, Ponchielli, Donizzetti, Bellini and Rossini premiered. Overnight in Milan.
Santa Maria delle Grazie is host to the famous fresco 'The last supper' by Leonardo Da Vinci. Visit also the exclusive areas of Milan, the wealthiest city in Italy.
2
Stresa
:

Before leaving Milan, we have a look at
Brera
Art Gallery. with its invaluable collection of
Italian paintings
. Works by Raphael or Tintoretto can be admired here. A walk at the
Castello Sforzesco
(Sforza Castle) and the viewing of "The Last Supper" by Leonardo da Vinci at the church of
Santa Maria delle Grazie
concludes our Milanese stay. Travel by your A La Carte Italy Tours airconditioned minivan to
Stresa
. That little town lies by the
Lago Maggiore
lake, near the Swiss border. It is an aristocrats' retreat. Your personal guide will point out the panoramic views, and take you to the Piazza Marconi, by the lake. There, you will learn about the features of the Church of San Ambrogio, built at the end of the 18th century. Also, see the Villa Ducale dedicated to philosopher Antonio Rosmini. 3 nights in Stresa area.
Your tour of Milan will take you to the 15th Century Sforza Castle. Originally built as a defensive castle, it is now home to several of the city's museums and art collections including the Coat of arms of Galeazzo Maria Sforza, which is painted on an interior ceiling.
3
Lake Orta
:
Travel to Lake Orta, and the village of
Orta San Giulio
. The village is so beautiful that many young couples come here for their wedding. On the
San Giulio
island, the Benedictine monastery
Mater Ecclesiae
is still the home to monks who pray from before dawn to sunset. After we leave the boat, your A La Carte Italy Tours driver takes you for a Scenic drive around the lakes.
Lake Maggiore
has a tectonic origin (resulting from ancient earthquakes), and its shape has been eroded by glaciers 15,000 years ago. 2nd night in Stresa area.
Your personally guided tour of Lake Orta will take you to San Giulio island where you can view the Benedictine monastery Mater Ecclesiae. Then, experience the unique landscape of the tectonic Lake Maggiore.
4
Isole Borromee
:
A gentle day spent on a boat on
Lake Maggiore
. See
Isola Madre
island, with its lush gardens. The Borromeo palace dates back to the 16th century. Isola Pescatori (Fishermen's Island) offers the San Vittore church, parts of which had been built in the 9th century. Napoleon, the Princess of Wales, Caroline of Brunswick stayed on
Isola Bella
("Beautiful Island"), where your A La Carte™ Italy Tour guide will point you the
Palazzo Borromeo
. It is the Borromeo family that gave their name to the three
Borromean Islands
. 3rd night in Stresa.
Experience a tour of Lago Maggiore by boat and visit the botanic gardens of Isola Madre, and its garden villa which contains a collection of marionettes, and 17th century paintings.
5
Lake Maggiore
:
Travel along the shores of
Lago Maggiore
. Your A La Carte™ Italy Tour will include Angera, a small town dating back to Roman times. Discover Angera's Rocca castle, and its wines. Stop at Laveno Mombello lake port town. At
Sacro Monte di Ghiffa
, one of the nine Sacred Mountains of Piedmont and Lombardy, on the UNESCO World Heritage list, see the Chapel of the Blessed Virgin Mary Crowned, built in 1647. The breathtaking panorama, and the 19th century frescoes, render the place magic. After having traveled to
Como
, your A La Carte Italy Tours guide will lead you through that town. The cathedral was started in 14th century. The church of San Fedele is even older, as it was built in 1120. And the basilica of Sant'Abbondio, the patron of the town, dates back to 1095; it is in Romanesque style, and houses 11th century paintings. 2 nights in Como.
Travel to the town of Angera and let your private guide lead you through the 14th Century Rocca castle. Here you will experience the Roman and Risorgimento museums, and the Museo Della Bambola, which contains over 1000 dolls dating from the 18th century to present day.
6
Lake Como
:

In your A La Carte™ Italy Tour minivan, travel along picturesque
Lake Como
. In Bellaggio, enjoy a historic walking tour going through
Piazza Mazzini
, the promontory, a bell tower, and the Villa Melzi gardens. From Bellaggio, catch the ferry to Menaggio - an opportunity for a short lake cruise. Menaggio is a summer resort area. See historic Menaggio:
Piazza Garibaldi
, San Marta church,
Castello
views. Explore
Tremezzo
and the
Villa Carlotta
- built in 1690, with an Italian garden (rhododendrons and azaleas) and statues of Mars and Venus. Cernobbio town with its tree-lined and flowery waterfront: its 19th century villas are a delight; spot the
Villa d'Este
,
Villa Erba
and
Villa Pizzo
. 2nd night in Como.
Be driven along Lake Como and guided through the neoclassical Villa Melzi d'Eril where you can view a range of archaeological findings and Napoleonic heirlooms. Stroll through the Villa's gardens and experience an array of monuments and artefacts including Egyptian sculptures and Roman statues.
7
Bergamo
:
Visit
Bergamo
's upper medieval town with the guidance of your A La Carte Italy Tours guide. Bergamo's past can be traced back to 49 BC and before. The
Piazza Vecchia
("old square" and
Piazza del Duomo
("Cathedral Square") are on our route. Travel in comfort to
Verona
, the city of Antonio Salieri, and also Romeo and Juliet. Your guided tour includes:
Piazza delle Erbe
(next to the Roman forum), Juliet's house and balcony ,
Piazza dei Signori
(Scaligeri Tombs - Gothic funerary monuments),
Arche Scaligere
(14th century sculpted arches), and the
Piazza Bra
(Roman Arena). 2 nights in Verona area.
In Verona, discover the The Scaliger Tombs; a group of five Gothic funerary monuments. You will be personally guided through this Italian city and will view one of its famous attractions; Juliet's House and balcony.
8
Lake Garda
:

Start the day with a scenic drive around
Lake Garda
with a visit to Sirmione, located on a delightful peninsula. Travel to
Punta di San Vigilio
: view over the lake. Picturesque lakeside road to Malcesine (
Castello Scaligeri
, with its 14th century fortifications), and cable car to Monte Baldo, made of limestone and dolomite. Your A La Carte™ Italy Tour chauffeur leads you then to
Limone sul Garda
(splendid setting: beaches, olive groves, valleys and mountains) and Gardone Riviera (home to Gabriele D'Annunzio; possible walk through botanical garden). Wine tasting in the evening. 2nd night in Verona area.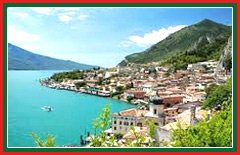 Follow the shores of Lake Garda and visit the historical town of Sirmione where you can view the ruins of Villa Romana. Your chauffeur will then drive you to Limone sul Garda where you can visit olive groves, and an old lemon grove; the Limonaia del Castèl.
9
Padova
:
Today, we leave Verona. A walking tour in
Padua
leads to the Scrovegni chapel (frescoes by Giotto). Padova is the city of St Anthony. It is delightful, with arcaded streets, historic squares and bridges over the Bacchiglione river. Later, as we have traveled to
Venice
, we start with a short city walk, custom made for A La Carte Italy Tours, to get acquainted with the city known as the most serene. St Mark's Basilica has five domes, a balustrade decorated by a group of bronze horses, impressive portals. The Doges Palace and its arcades and the famous Bridge of Sighs. It is said that the bridge gained its name from the prisoners that were taken through it to their cells, and sighed at their last view of beautiful Venice. 2 nights in Venice.
Padova is the city of St. Anthony, and your personally guided tour of Italy will take you to view historic arcaded streets, the Byzantine-style domes of the Basilica of St. Anthony, and Giotto's famous frescoes at the Scrovegni Chapel.
10
Venice
:

This morning, your private guide will organize a private water taxi for a canal tour. The water taxis are sleek polished wooden boats with open air and undercover seating. These crafts are built by a Venetian family, which also manufactures water ambulances, fire boats, police boats and other specific vessels. Although the canals of
Venice
are beautiful and full of history, they are not only a tourist attraction: Venice is a city of 300,000 inhabitants, and they all rely on water-based transportation and services, since there are no cars on the island city. A fascinating tour, run at your own pace, with possible stops for photographs. Only A La Carte™ Italy Tour offers such a personalized tour. After the boat ride, it's time for a leisurely stroll. Admire the
Rialto Bridge
. It is a stone bridge, with shops on both sides, built in 1591; in fact, a replica of a previous wooden bridge. Later along our walk, see the
Santa Maria dei Frari
church, and the
Palazzo Querini Stampalia
with a fantastic gallery. Experience a
vaporetto
ride to Murano Island and see how a glass blowing factory operates. To conclude the day, a private gondola ride with music and songs is maybe an idea? 2nd night in Venice.
Enjoy a luxury tour of of Venice by private water taxi, and view the Venetian architecture lining the banks of the Grand Canal. View the Santa Maria dei Frari church, the Palazzo Querini Stampalia, and the 16th Century, Rialto Bridge; the oldest bridge that crosses the Grand Canal.
11
Ravenna
:
This is the end of our 2-night stay in Venice. We are back into our A La Carte™ Italy Tour minivan. Relax and see the passing landscapes as we travel to
Ravenna
. Visit Romanesque Pomposa Abbey: started in the 9th century, it was home to Guido d'Arezzo, who invented the modern musical notation. Your A La Carte™ ItalyTour guide will lead you through Ravenna on a city tour: Basilica of St Vitus (547 AD, Byzantine frescoes),
Galla Placidia
Tomb (450 AD), Baptistery of Neoni (6th century mosaics) and Tomb of Dante (although he died in 1391, his monument was built in the 18th century). Overnight in Ravenna area.
Your
personal tour guide
in Ravenna will take you to view extensive collections of early Christian art including luxurious 4th - 5th century masterpieces in emerald, gold, and sapphire. You will also be guided through the historic tomb of Dante, most important poet of Italy.
12
Bologna
:
Discover
Bologna
, the capital of Emilia-Romagna region of Italy. Pier Paolo Pasolini, Ottorino Respighi, Umberto Eco and Gioachino Rossini were born or lived in Bologna. With your A La Carte™ Italy Tour guide, see the
Piazza di Porta Ravegnana
and its Renaissance House of cloth manufacturers. There are also
leaning towers
in Bologna; the tallest one was built for the Asinelli family, dates from 1109 and is almost 300 feet high. Enjoy Italian life at the
Piazza Maggiore
, the basilica of San Petronio (one of the world's largest), the curiously eclectic
Fontana di Nettuno
(Neptune's Fountain) made in 1567 by Giambologna (in order for that fountain to be erected, an entire building had to be demolished!). Main Square and Neptune Square (Saint Petrone Cathedral, Fountain of Neptune) in Bologna. 3 nights in Parma area.
In Bologna, a major historic city of Italy, see Giambologna's 1567 Fountain of Neptune. Enjoy a private tour of the Piazza di Porta Ravegnana and view the medieval towers, the tallest of which stands at nearly 300 feet.
13
Parma
:

Discover
Parma
, starting with a Parmesan cheese factory. In the city center, enjoy the historic knowledge of A La Carte Italy Tours' guides as you walk to the Romanesque cathedral. The
Battistero
is an interesting step from Romanesque to Gothic architecture, made in pink marble. Admire the 16th century Church of St John the Evangelist with its baroque facade and frescoes by Parmigianino. Then travel to the
Palazzo della Pilotta
(possible visit to the National Archaeological Museum or the Academy of Fine Arts). 2nd night in Parma area.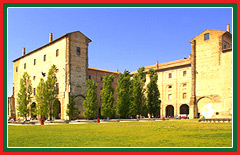 Travel to the historic centre of Parma and be personally guided through the Palazzo della Pilotta. Here, you can visit the Galleria Nazionale of Italy, which is home to Parma's main art collection and contains works from El Greco, and Fra Angelico.
14
Modena
:
Traveling from Parma to Modena, we make a detour through
Maranello
. This is home to the Ferrari factory and Ferrari Gallery. Learn more about these prestigious Italian cars under the expert guidance of a local specialist exclusive to
A La Carte™ Italy Tours
. Then head to
Modena
. Some illustrious people from Modena are Luciano Pavarotti and Mirella Freni. Enjoy the
Piazza Grande
(yet another UNESCO World Heritage Site). Learn about the Cathedral (started in 1099) with its Gothic campanile (
Torre della Ghirlandina
), and the Cathedral Museum. Stroll to the majestic Palazzo Ducale, started in 1634. 3rd night in Parma.
Your tour of Modena will allow you to experience the early Romanesque art of the 12th Century cathedral including portraits of prophets and Biblical stories, and the famous 'rose window'. The Torre della Ghirlandina is the bell tower of the Cathedral and is visible from all directions within and outside of the city.
15
Milan
:
This last day has some free time for you to shop, relax or enjoy more sightseeing. Your A La Carte™ Italy Tour driver will make sure you enjoy traveling across Italy to the last minute. If desired, a fascinating visit is that of the
National Museum of Science and Technology
in Milan (
Leonardo da Vinci
's machine models, beautiful setting in a 16th century Olivetan monastery). Drop-off at Milan international airport. This is the end of your "Best of Northern Italy tour".
Return to Milan and experience the National museum of Science and Technology. Here you can view computer science exhibitions at the Monumental building, visit the Leonardo Gallery which contains machines and models based on the designs of Leonardo Da Vinci, and the rail, and air and sea transport buildings.
Best of Northern Italy tour in 15 days - prices
Type of Accommodation
Boutique
Luxury
If your party has
2-3 passengers
price per person is
US$ 17,800
US$ 27,900
If your party has
4-6 passengers
price per person is
US$ 15,150
US$ 23,700
Our prices include:
private driver-guide all along during your travel in Italy
minivan (limousine) with A/C
luggage handling
domestic flights in Italy (if mentioned in the itinerary)
train rides 1st class (if mentioned in the itinerary)
all entrance fees
accommodation (2 categories to choose from: Boutique or Luxury)
if you select Luxury accommodation, you will also have the best available "room" in that establishment ("suites" or "apartments" upon request)
continental breakfasts
light lunches (lunch is usually kept light and short so we can sightsee more)
dinners in gourmet restaurants (for a Boutique tour); or in best overall restaurants (for a Luxury tour); in all cases, dinner is a la carte (you choose any three items)
1/2 bottle per person of best local wine at dinner
all taxes and tolls
Our prices exclude:
international flights
insurance
optional activities
personal expenses
To book:
please send us an email detailing your dates and wishes to custom@italyprivateluxury.tours
or, if you prefer, please fill out the enquiry form
once you are satisfied with the suggested custom tour that we will design for you, we will ask you to pay a 30% deposit (usually between 3-12 months in advance)
the balance of the tour price (70%) is payable 60 days before the start of the tour
A La Carte Italy Tours accepts and MasterCard
Please do not send us your credit card details by email. In our correspondence, we will point you to a secure form.

Cancellations:
the 30% booking deposit is non-refundable
cancellations until 7 days before departure: 20% of balance refunded
no refund for cancellations received later
We will be happy to answer all your questions. There is no particular charge for a custom tour; if you wish a travel itinerary to suit a particular need, timeframe or interest, just ask us, and we will suggest a tour priced similarly to our advertised tours. Send us an email to custom@italyprivateluxury.tours .