Luxury minivan guided travel and vacations


Discover Italy with your own private
chauffeur guide

A La Carte Italy Tours offers exclusively private driver-guide tours. All our tours are custom-made to suit your needs, tastes and dates, and are run on an exclusive basis. We never mix passengers who do not know each other.
Milan - Tuscany - Rome Tour of Italy
The Milan-Tuscany-Rome Tour is a suggested itinerary with departure in Milan and arrival in Rome, and has a duration of 12 days. The various holiday attractions and awe-inspiring scenery that you can visit here will truly give anyone a sense of excitement and anticipation.
This tour ventures south from Milan, with escorted excursions in Florence, Rome and Parma. As all the tours by A La Carte™ Italy Tours, it is run privately, just for you. Included in the tour are a wine tasting in Chianti Hills, as well as visits to the Vatican, Coliseum, Leaning Tower of Pisa, da Vinci's "The Last Supper" and Michelangelo's Statue of David.
The regions visited are Lombardy, Tuscany, Emilia Romagna and Lazio.
This privately guided and chauffeured tour in Italy can be redesigned to suit your specific interests, needs or timeframe. Unless you wish otherwise, your guide will take you to:
Milan - Parma - Lucca - Maranello - Modena - Pisa - Florence - San Gimignano - Chianti Hills - Siena - Tivoli - Vatican - Rome
A
private tour in Italy
gives you access to lesser known areas in Milan, like these canals conceived by Leonardo da Vinci
Milan - Tuscany - Rome Tour of Italy - Itinerary in 12 days
Book this tour
Day
Suggested itinerary with departure from Milan and arrival in Rome
1
Milan
:
Your very own chauffeur picks you up from Milan international airport.
Milan
is home to 1.3 million people. Leonardo da Vinci, Alessandro Manzoni, Giuseppe Verdi, the Visconti family, the Sforza family lived here. For many centuries, it has been one of the wealthiest cities on earth. A view of the interior and rooftops of the
Duomo
(cathedral) is not to be missed. Your private guide will explain the nave, flying buttresses, portals, belfries and other historic, architectural and artistic features. That giant cathedral can hold 40,000 people. Next door is the Gallery
Vittorio Emanuele II
. This is a 150-year old luxury shopping center. Its glass top was one of the first of its kind and size. The "La Scala"
Opera-House
is on the other side of the gallery. This is where operas by Puccini, Verdi, Ponchielli, Donizzetti, Bellini and Rossini premiered. Overnight in Milan.
Your tour in Milan will guide you through the luxury of La Scala; a lavish, neoclassical style opera house built in the 18th century. The theatre is famous for operas and ballets, and also contains a museum and music library.
2
Milan - Parma
:
Before leaving Milan, we have a look at
Brera
Art Gallery. with its invaluable collection of
Italian paintings
. Works by Raphael or Tintoretto can be admired here. A walk at the
Castello Sforzesco
(Sforza Castle) and the viewing of "The Last Supper" by Leonardo da Vinci at the church of
Santa Maria delle Grazie
concludes our Milanese stay. Travel to
Pavia
, a city with a peaceful atmosphere. 5 miles away from the center, see the
Certosa di Pavia
(Carthusian Monastery), both Gothic and Renaissance. Your A La Carte Italy Tours minivan takes you to Parma. 3 nights in Parma area.
Your private tour through the Pinacoteca di Brera art gallery will allow you to view over 500 Italian, renaissance artworks including works by Raphael and Tintoretto.
3
Parma
:
Discover
Parma
, starting with a Parmesan cheese factory. In the city center, enjoy the historic knowledge of A La Carte Italy Tours' guides as you walk to the Romanesque cathedral. The
Battistero
is an interesting step from Romanesque to Gothic architecture, made in pink marble. Admire the 16th century Church of St John the Evangelist with its baroque facade and frescoes by Parmigianino. Then travel to the
Palazzo della Pilotta
(possible visit to the National Archaeological Museum or the Academy of Fine Arts). 2nd night in Parma area.
Your trip to Parma will take you to the Battistero, a Romanesque cathedral built out of pink marble. Inside, you can view the 13th and 14th century frescoes and paintings, and the sixteen rays painted upon the domed ceiling.
4
Modena
:

Traveling from Parma to Modena, we make a detour through
Maranello
. This is home to the Ferrari factory and Ferrari Gallery. Learn more about these prestigious cars under the expert guidance of a local specialist exclusive to A La Carte™ Italy Tours. Then head to
Modena
. Some illustrious people from Modena are Luciano Pavarotti and Mirella Freni. Enjoy the
Piazza Grande
(yet another UNESCO World Heritage Site). Learn about the Cathedral (started in 1099) with its Gothic campanile (
Torre della Ghirlandina
), and the Cathedral Museum. Stroll to the majestic Palazzo Ducale, started in 1634. 3rd night in Parma.
In Modena, visit the Piazza Grande and be guided through the 12th Century Cathedral. Here you can view the Torre Della Ghirlandina, and the early Romanesque art of Lanfranco and Wiligelmus.
5
Pisa
:
Traveling to Pisa and its
Leaning Tower
, yet another UNESCO World Heritage Site. Your private A La Carte™ Italy Tour guide will point out the wonders of the
Piazza del Duomo
(Cathedral Square), baptistery and cemetery. The Leaning Tower is in fact a bell tower next to the church. It began leaning early after the construction in 1173, because the foundations had been improperly prepared. Your A La Carte Italy Tours minivan takes you then to
Lucca
, a city dating back to the Etruscan times. Lucca is famous for its walls that surround the historic part of the city. You will have the opportunity to explore the Cathedral, the Church of
San Michele in Foro
, the Guinigi Tower. This tower was built for the Guinigi family in 14th century. It has gothic style windows. A distinct feature are the oak trees growing on the roof. It was a tradition to plant oak tres on rooftops, but few of these roofs (understandably!) survived so many centuries. 3 nights in Florence area.
Enjoy a
personally guided tour
of Lucca and experience the famous renaissance walls that encircle the city centre and cobblestone streets within. Here you will visit the San Michele in Foro; a 12th century Romanesque church renowned for its luxurious, white marble facade.
6
Florence
:
We dedicate the day to a tour of
Florence
. As with all our other tours, this one is made exclusively for you, and is unique to A La Carte™ Italy Tour. The
Basilica di Santa Maria del Fiore
is our departure point for the city walking tour. It is Florence's cathedral. Its building started in 1296. It is made of marble of various colors. Nearby, the 14th century
Palazzo Vecchio
is a fortress-shaped town hall. It is located on the
Piazza della Signoria
square. The
Loggia della Signoria
is located on the same square. It features allegorical figures, a statuary and wide arches that were admired by Michelangelo. Next door, there is also a copy of Michelangelo's David. The original can be seen at the
Accademia Gallery
. We'll also have a look at the
Basilica di Santa Croce
(Basilica of the Holy Cross) with the with tomb of
Michelangelo
. 2nd night in Florence area.
In Florence, experience a private tour of the city's luxurious cathedral, view its Renaissance dome and its pink, white and green marble exterior. Then, visit the nearby Loggia Della Signoria; where you can view a gallery of Renaissance style sculptures.
7
Chianti Hills
:

It is time to travel to the famous Tuscan hills and
Chianti
wine birthplace. Your A La Carte Italy Tours chauffeur takes you on a private discovery of this heritage area. Greve is a town in the
Chianti
area. It has an "out the beaten track" feel, although it is only 20 miles away from Florence. There is a Franciscan monastery, and a square that is actually... triangular in shape (not a very common occurrence on the Old Continent). Nearby, the tiny hilltop village of
Montefioralle
dates back to 931 AD. It is famous for its wines. After a typical lunch during which your A La Carte Italy Tours guide will introduce you to the specificities of local produce, visit a wine cellar to learn more about the
Denominazione di Origine Controllata e Garantita
label, the
Chianti Classico
,
Chianti Superiore
and
Chianti Classico Riserva
wines, the straw basket bottles, the
Sangiovese
,
Canaiolo
and
Malvasia bianca
grapes. 3rd night in Florence area.
Your private tour of the Tuscan hills will take you to the town of Greve where you can visit a Franciscan monastery and a triangular shaped square. Then travel on to the small hilltop village of Montefioralle and sample the famous wines of this region.
8
San Gimignano
:
Short trip to Siena with your A La Carte Italy Tours private minivan. See the famous medieval
Piazza del Campo
. The famous
Palio
is held here twice a year (2 July and 16 August). Admire the
Palazzo Pubblico
(public palace) built in 1297, and its unusual secular frescoes. Learn the history of Siena Cathedral, with its interesting horizontal lines of light and dark marble. Comfortable drive to San Gimignano. After a typical lunch, travel to San Gimignano. The cathedral was built in 1148 and has breathtaking frescoes in the Siena style. The village had 70 odd tower-houses (some as high as 150 feet) as symbols of the wealth and power of their ancestral owners. In the past, other towns of Italy also had their towers, but they have mostly been destroyed; San Gimignano has preserved 14 of its towers. The village in its current form dates back to the 10th century AD, although it has much older origins dating back to pre-historic times. Your A La Carte Italy Tours guide will take you on a walk that includes the
Piazza della Cisterna
. It is the historic and commercial center of town. The
Torre del Diavolo
and
Torri Ardinghelli
towers, the octagonal cistern, and the torture museum are all within that square. Relax in a café, walk to catch more sights, or learn the infinite stories of the area. First class train ride from Florence to Rome. 4 nights in Rome.
Your trip to Siena will guide you through the Piazza del Campo where you can view the luxurious Palazzo Pubblico with its unique secular frescoes, and the medieval Siena cathedral.
9
Rome
:
Enjoy a full day in Rome with the expert guide of A La Carte™ Italy Tour. The
Roman Coliseum
(also called Colosseum or, in Italian,
Colosseo
) was built in 70 AD. It is an amphitheater. It could originally seat 80,000 people. It was used for gladiatorial games and other large scale shows in Roman times. Nearby, the
Fori Imperiali
(Roman Forum) is a group of contemporary temples' and basilicas' ruins. The Arch of Constantine is younger: built in 315 AD. Your A La Carte Italy Tours private guide will talk at length about its artwork and relief panels. The Palatine Hill is the next stop on our walk. The legend says that the Lupercal was located here. The Lupercal is the cave where
Romulus and Remus
, the mythological founders of Rome, were found by the female wolf that nursed them. See the
Bocca della Verita
("Mouth of Truth"). According to popular belief, if you place your hand in the mouth of this face carving and say a lie at that time, your fingers will be chopped off! Your walk takes you later to the Capitol Square (
Campidoglio
). It is a group of Museums on top of the Capitoline Hill. It is said that the first Romans settled the city from here in prehistoric times. The current Renaissance style buildings were mostly designed by Michelangelo. Your travel in time continues as we walk to the Trevi Fountain. This baroque construction dates back to 1732, but is fed by a much older canal, which is over 2,000 years old. Climb the Spanish Steps, so named because they led a small Spanish enclave in Rome. In the evening, enjoy some typical Roman foods in one of the gourmet restaurants hand-picked by A La Carte Italy Tours. 2nd night in Rome.
Your guided tour of Rome will allow you to experience the famous Bocca Della Verita. This classical period stone mask is known in English as the 'mouth of truth' and depicts a river God with an open mouth and flowing hair, who, according to legend, will take the fingers of any liar if they place them in its stone mouth!
10
Vatican
:

A visit to Rome would not be complete without traveling to the Vatican. The world's smallest state is a Roman enclave. St Peter's Square had been designed by Bernini. It took 120 years to build the Basilica. It is now one of the holiest sites in the world. According to tradition, St Peter (one of the twelve apostles of Jesus) is buried here. Michelangelo's Pieta, a sculpture showing the body of Jesus held his mother Mary after the crucifixion, is displayed here. Your A La Carte™ Italy Tour guide takes you on a private visit to the
Vatican Museums
where pieces of art accumulated by popes over the ages are on display. The
Sistine Chapel
, with its ceiling painted Michelangelo, is the most famous part of these Museums. We have the afternoon to explore the Vatican's gardens, with their amazing sculptures and the 16th century
casina
house (interesting paintings). 3rd night in Rome.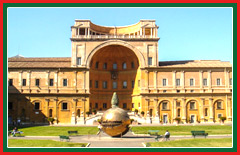 Experience the Vatican, and be guided through one of the holiest sites in the world; St Peter's square. Be personally guided through the Vatican museums where you can view the famous masterpieces including Michelangelo's Sistine chapel ceiling.
11
Tivoli
:

Travel out of Rome to nearby Tivoli for the day. Your personal A La Carte Italy Tours minivan takes you to the
Villa d'Este
. It was built in the 16th century and remains exemplary of Italian building and garden design. Over a hundred fountains, balconies, terraces and a grotto are some of the features of these heritage gardens. A short trip away is the
Villa Adriana
- Hadrian's Villa. Built in the 2nd century AD it is, in fact, a group of 30 houses. Hadrian, who was very well traveled, used designs spotted during his travels to Greece or Egypt. Many sculptures had been found on site. One of them is the famous Discobolus, a discus thrower. 4th night in Rome.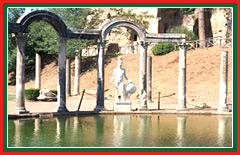 Your tour of Tivoli will allow you to experience the luxury of Hadrian's Villa; a complex of classical buildings and architecture created in the 2nd Century by the Emperor Hadrian and designed as the 'ideal' city.
12
Rome
:
On this last day of your
Italy tour
, you may want to have some free time for shopping. However, the guide of A La Carte™ Italy Tour is always ready to show you more
Italian and Roman delights
. If sightseeing is your wish, we could suggest the
Piazza Venezia
. The
Palazzo Venezia
, located on that
piazza
, was once the embassy of the Republic of Venice. This is a fine
Renaissance
building. It contains art galleries with tapestries, pottery and sculptures from the early Christian era onwards. Famous occupiers of the building were Pope Pius IV (16th century) and Mussolini. Drop-off at Rome international airport Leonardo da Vinci. This is the end of your "Milan - Tuscany - Rome Tour" in Italy.
Be guided through the Piazza Venezia and visit the Palazzo Venezia, the Palazzo Generali, and the white marble Il Vittoriano monument which is dedicated to the first King of Italy.
Milan - Tuscany - Rome tour of Italy in 12 days - prices
Type of Accommodation
Boutique
Luxury
If your party has
2-3 passengers
price per person is
US$ 14,800
US$ 23,500
If your party has
4-6 passengers
price per person is
US$ 12,800
US$ 20,000
Our prices include:
private driver-guide all along during your travel in Italy
minivan (limousine) with A/C
luggage handling
domestic flights in Italy (if mentioned in the itinerary)
train rides 1st class (if mentioned in the itinerary)
all entrance fees
accommodation (2 categories to choose from: Boutique or Luxury)
if you select Luxury accommodation, you will also have the best available "room" in that establishment ("suites" or "apartments" upon request)
continental breakfasts
light lunches (lunch is usually kept light and short so we can sightsee more)
dinners in gourmet restaurants (for a Boutique tour); or in best overall restaurants (for a Luxury tour); in all cases, dinner is a la carte (you choose any three items)
1/2 bottle per person of best local wine at dinner
all taxes and tolls
Our prices exclude:
international flights
insurance
optional activities
personal expenses
To book:
please send us an email detailing your dates and wishes to custom@italyprivateluxury.tours
or, if you prefer, please fill out the enquiry form
once you are satisfied with the suggested custom tour that we will design for you, we will ask you to pay a 30% deposit (usually between 3-12 months in advance)
the balance of the tour price (70%) is payable 60 days before the start of the tour
A La Carte Italy Tours accepts and MasterCard
Please do not send us your credit card details by email. In our correspondence, we will point you to a secure form.

Cancellations:
the 30% booking deposit is non-refundable
cancellations until 7 days before departure: 20% of balance refunded
no refund for cancellations received later
We will be happy to answer all your questions. There is no particular charge for a custom tour; if you wish a travel itinerary to suit a particular need, timeframe or interest, just ask us, and we will suggest a tour priced similarly to our advertised tours. Send us an email to custom@italyprivateluxury.tours .