Luxury minivan guided travel and vacations


Discover Italy with your own private
chauffeur guide

A La Carte Italy Tours offers exclusively private driver-guide tours. All our tours are custom-made to suit your needs, tastes and dates, and are run on an exclusive basis. We never mix passengers who do not know each other.
Northeastern Italy Tour
The Northeastern Italy Tour is a suggested itinerary with departure in Milan and arrival in Venice, and has a duration of 10 days. A drop-off in Milan is also possible at the end of the tour, at no further charge. This tour crosses northern Italy exploring east from Milan. Extensive visits are planned in Milan, Verona, Bolzano and Venice. Highlights of the tour include da Vinci's "The Last Supper" in Milan and a scenic canal trip through the beautiful and romantic city of Venice. A wine tasting is planned, as well as a trip through the scenic Dolomites. Venetia, Lombardy, and Trentino-Alto Adige / Südtirol / South Tyrol are the regions of Italy encompassed by this tour.
This itinerary caters to those who like not only fine arts and history, but also nature and mountain landscapes.
This privately guided and chauffeured tour in Italy can be redesigned to suit your specific interests, needs or timeframe. Unless you wish otherwise, your guide will take you to:
Milan - Como - Verona - Bergamo - Lake Garda - The Dolomites - Bolzano - Venice
A typical mountain landscape in the Dolomites
Day
Suggested itinerary with departure from Milan and arrival in Venice (Northeastern Italy)
1
Milan
:
Your very own chauffeur picks you up from
Milan
international airport. The Lombard city of Milan is famous for its fashion and style. It is said that the
Galleria Vittorio Emanuele
is the oldest shopping center in the world. It has two glass-covered arcades, and was built in 1865. This is the place to view luxury goods by Gucci and Prada. Next door, visit Milan Cathedral (
Duomo
). It is in Late Gothic style. It is often considered as one of the major churches in the world. There are amazing sights from the roof. Although its construction started in 1386, it was only completed in 1805. A few yards away, another timeless monument:
La Scala
Opera-House. It was expensively refurbished in 2004. 2 nights in Milan area.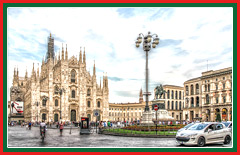 Milan is the industrial centre of Italy and is considered the country's most stylish city. Your tour will allow you to experience both the luxury high couture fashion of the Galleria Vittorio Emanuele II, as well as a range historical churches and monuments including the gothic style Duomo di Milano cathedral.
2
Como
:
Today, we head out of Milan for a day tour to romantic countryside and villages. Follow
Lake Como
shoreline. It has been carved by glaciers 15,000 years ago. Many attractive historic villas can be spotted along the Lake. Walk the streets of
Como city
. The cathedral has a striking facade rose window and rococo dome. Its building started in 1396. The
San Fedele
church is Romanesque in style. The door of St. Fedele bears decorations from the Middle Ages. The basilica of Sant'Abbondio was completed in 1095, although some of its frescoes are from the 14th century. Return to Milan in your comfortable A La Carte™ Italy Tour minivan. 2nd night in Milan area.
Your trip to the lakeside town of Como will allow you to view a luxurious series of Mediterranean and neoclassical style villas, and the famous Basilica of Sant'Abbondio, a Romanesque style church built in the 11th century.
3
Bergamo
:
Before leaving Milan, your A La Carte Italy Tours guide will lead you to the Brera Art Gallery. It is one the major collections of Italian paintings. At the Church of Holy Mary of the Graces, see and understand the "Last Supper" by Leonardo da Vinci. Then, travel to
Bergamo
. It is a hilltop medieval town. Walk the
Piazza Vecchia
and Piazza del Duomo. This is where you can admire landmarks like the
Palazzo della Ragione, Campanone
and the
Basilica di Santa Maria Maggiore
. Enjoy a chauffeur-driven ride to
Verona
, home to Romeo and Juliet. See "Juliet's balcony". The interesting Piazza delle Erbe was made using historic demolition material from Roman spas and villas. Walk to the
Piazza dei Signori
with its
Palazzo del Comune
, and listen to your A La Carte™ Italy Tour guide explanations about the Scaligeri palace. The
Arche Scaligere
(Scaliger Tombs) are a funerary monument of the Scaliger family. Then enjoy the
Piazza Bra
, next to the Arena built in the 1st century AD. 3 nights in Verona area.
The old city of Bergamo is located at the top of a hill, with the new city below. Your
private tour
will take you through the medieval town centre of the Città Alta (high city) which is circled by 17th century Venetian walls.
4
Verona
:
A walking tour in
Padua
leads to the Scrovegni chapel (frescoes by Giotto). Padova is the city of St Anthony. It is delightful, with arcaded streets, historic squares and bridges over the Bacchiglione river. Your private A La Carte™ Italy Tour driver takes you to
Vicenza
, capital of the province of Veneto. Actress Amy Adams was born here. The city is one of numerous UNESCO World Heritage Sites in Italy. Walk and enjoy the
Piazza dei Signori
. The Basilica Palladiana was built by Venetian architect Andrea Palladio (1508-1580). The Torre Bissara is a 12th century structure erected to house the church bell and a clock that has been ticking since 1378! See also the
Monte di Pieta
(a historic charitable pawnbroker institution), the
Loggia del Capitano
(sculptures), the Olympic Theater (first modern-style covered theater, built in 1585), the
Corso Andrea Palladio
(Vicenza's main avenue). 2nd night in Verona area.
In Verona, you will be guided through the setting of the world's greatest love story; Romeo and Juliet. View the famous 'Juliet's balcony' as well as a range of Roman, medieval, and renaissance architecture including the arena; an expansive amphitheatre, that has stood intact for two centuries.
5
Lake Garda
:
Start the day with a scenic drive around
Lake Garda
with a visit to Sirmione, located on a delightful peninsula. Travel to
Punta di San Vigilio
: view over the lake. Picturesque lakeside road to Malcesine (
Castello Scaligeri
, with its 14th century fortifications), and cable car to Monte Baldo, made of limestone and dolomite. Your A La Carte™ Italy Tour chauffeur leads you then to
Limone sul Garda
(splendid setting: beaches, olive groves, valleys and mountains) and Gardone Riviera (home to Gabriele D'Annunzio; possible walk through botanical garden). Wine tasting in the evening. 3rd night in Verona area.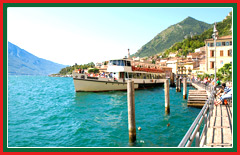 Your personal tour of Lake Garda, the largest lake in Italy, will allow you to view various medieval landmarks including the 14th century castle in the town of Malcesine, and the heritage flora of Monte Baldo.
6
Bolzano
:
Enjoy a pleasant drive to the
Molveno
lake and admire its clean green water and surrounding mountains. Nature is queen here; trout, arctic char (salmon family) and perch can be spotted in the lake, and rabbits, roe deer, chamois can occasionally be spotted in the surrounds. Your A La Carte Italy Tours guide will lead you to Andalo, a village sited by another lake, from where we will catch a cable car to Monte Paganella (panoramic views). Travel to Alpine town of
Bolzano
(Bozen), and visit the South Tyrol Museum of Archaeology, "The Ötzi Museum", with the "Iceman" (a 5,300 years old mummified man). See Bolzano Gothic cathedral, very much unlike other Italian cathedrals. Walk from Piazza Walther to Via dei Portici. 2 nights in Bolzano.
Bolzano is an alpine town and is home to the South Tyrol Museum of Archaeology. Your trip will guide you through the unique architecture of the area which, with its rationalistic style, differs to much of Italy and reflects the German heritage of the town.
7
The Dolomites
:

Day tour to
Dolomites
. Reach the
Passo di Costalunga
pass and admire the view over the Catinaccio and the Latemar. Cross Malga Ciapela village and catch the cable-car up to
Marmolada
, the highest point in Dolomites (11,000 feet). Your A La Carte™ Italy Tour driver takes you through the magnificent
Passo di Sella
mountain pass, one of the most extensive panoramic views. Selva di Val Gardena village. Drive through Val Gardena, one of the most famous valleys in the Dolomites. 2nd night in Bolzano area.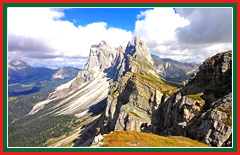 The Dolomites are a 200 million year old, 9000 feet high, carbonate mountain range. Experience a
private tour
of these mountains; which are listed by UNESCO as one of the Natural world heritage sites.
8
Monte Grappa
:

As we leave Bolzano, enjoy the scenery of
Monte Grappa
. Little town of Asolo. The 18th century Asolo theater, a masterpiece of baroque , cannot be found here... since it was transported to Florida, where it is in use in Sarasota. We cross
Castelfranco Veneto
and have a glimpse at its medieval towers and walls. As we reach Venice, we have a first opportunity to get acquainted with the
most serene
city. St Mark's Basilica has five domes, a balustrade decorated by a group of bronze horses, impressive portals. The Doges Palace and its arcades and the famous Bridge of Sighs. It is said that the bridge gained its name from the prisoners that were taken through it to their cells, and sighed at their last view of beautiful Venice. 2 nights in Venice area.
Your private tour will include unique scenery and hill towns such as Asolo, as well as the medieval towers of Castelfranco Veneto.
9
Venice
:
This morning, your private guide will organize a private water taxi for a canal tour. The water taxis are sleek polished wooden boats with open air and undercover seating. These crafts are built by a Venetian family, which also manufactures water ambulances, fire boats, police boats and other specific vessels. Although the canals of
Venice
are beautiful and full of history, they are not only a tourist attraction: Venice is a city of 300,000 inhabitants, and they all rely on water-based transportation and services, since there are no cars on the island city. A fascinating tour, run at your own pace, with possible stops for photographs. Only A La Carte™ Italy Tour offers such a personalized tour. After the boat ride, it's time for a leisurely stroll. Admire the
Rialto Bridge
. It is a stone bridge, with shops on both sides, built in 1591; in fact, a replica of a previous wooden bridge. Later along our walk, see the
Santa Maria dei Frari
church, and the
Palazzo Querini Stampalia
with a fantastic gallery. Experience a
vaporetto
ride to Murano Island and see how a glass blowing factory operates. To conclude the day, a private gondola ride with music and songs is maybe an idea? 2nd night in Venice area.
Your tour through Venice will guide you along the famous Grand Canal via water taxi, and on foot, to various cultural landmarks such as Teatro la Fenice, the Santa Maria dei Frari church and the Rialto Bridge.
10
Venice
:

On this last day, you may wish to have some free time for shopping, or your A La Carte Italy Tours guide can take you to the
Academy of fine arts
in Venice. Drop-off at Venice airport (or Milan, if preferred). This is the end of your "Northeastern Italy Tour".
The Academy of Fine Arts in Venice is one of the best art museums in Europe. Your guided tour through this Italian landmark will allow you to view pre-19th century paintings by Venetian, Florentine, Roman and other European artists.
Northeastern Italy tour in 10 days - prices
Type of Accommodation
Boutique
Luxury
If your party has
2-3 passengers
price per person is
US$ 12,900
US$ 20,500
If your party has
4-6 passengers
price per person is
US$ 10,900
US$ 17,500
Our prices include:
private driver-guide all along during your travel in Italy
minivan (limousine) with A/C
luggage handling
domestic flights in Italy (if mentioned in the itinerary)
train rides 1st class (if mentioned in the itinerary)
all entrance fees
accommodation (2 categories to choose from: Boutique or Luxury)
if you select Luxury accommodation, you will also have the best available "room" in that establishment ("suites" or "apartments" upon request)
continental breakfasts
light lunches (lunch is usually kept light and short so we can sightsee more)
dinners in gourmet restaurants (for a Boutique tour); or in best overall restaurants (for a Luxury tour); in all cases, dinner is a la carte (you choose any three items)
1/2 bottle per person of best local wine at dinner
all taxes and tolls
Our prices exclude:
international flights
insurance
optional activities
personal expenses
To book:
please send us an email detailing your dates and wishes to custom@italyprivateluxury.tours
or, if you prefer, please fill out the enquiry form
once you are satisfied with the suggested custom tour that we will design for you, we will ask you to pay a 30% deposit (usually between 3-12 months in advance)
the balance of the tour price (70%) is payable 60 days before the start of the tour
A La Carte Italy Tours accepts and MasterCard
Please do not send us your credit card details by email. In our correspondence, we will point you to a secure form.

Cancellations:
the 30% booking deposit is non-refundable
cancellations until 7 days before departure: 20% of balance refunded
no refund for cancellations received later
We will be happy to answer all your questions. There is no particular charge for a custom tour; if you wish a travel itinerary to suit a particular need, timeframe or interest, just ask us, and we will suggest a tour priced similarly to our advertised tours. Send us an email to custom@italyprivateluxury.tours .