Luxury minivan guided travel and vacations


Discover Italy with your own private
chauffeur guide
A La Carte Italy Tours offers exclusively private driver-guide tours. All our tours are custom-made to suit your needs, tastes and dates, and are run on an exclusive basis. We never mix passengers who do not know each other.
Rome-Florence-Venice tour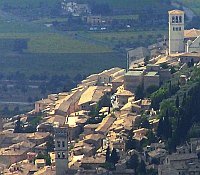 The Rome - Florence - Venice tour starts and ends in Rome, and has a duration of 14 days.
This privately guided Italy tour emphasizes the cities of Rome, Florence and Venice, with visits to some of the most historic attractions in Italy. Included in this tour are the Pantheon, Coliseum, Vatican museums and Statue of David. In addition, a gondola ride through the scenic canals of Venice and a winery tour in Chianti Hills are included. As with all itineraries run by A La Carte™ Italy Tours, this one is made for you exclusively.

Your own minivan and your own chauffeur and guide are at your disposal all along.
This privately guided and chauffeured tour in Italy can be redesigned to suit your specific interests, needs or timeframe. Unless you wish otherwise, your guide will take you to:
Rome - Vatican - Tivoli - Todi - Assisi - San Marino Republic - Ravenna - Pomposa Abbey - Venice - Bologna - Florence - Chianti Hills - Lucca - Pisa Siena - San Gimignano - Rome
Walking towards the interesting Mausoleum of Theoderic in Ravenna (520 AD)
Rome - Florence - Venice tour in 14 days - prices
Type of Accommodation
Boutique
Luxury
If your party has
2-3 passengers
price per person is
US$ 17,320
US$ 28,000
If your party has
4-6 passengers
price per person is
US$ 14,720
US$ 23,500