Luxury minivan guided travel and vacations


Discover Italy with your own private
chauffeur guide
A La Carte Italy Tours offers exclusively private driver-guide tours. All our tours are custom-made to suit your needs, tastes and dates, and are run on an exclusive basis. We never mix passengers who do not know each other.
Rome-Amalfi Tour of Italy

The Rome-Amalfi Tour of Italy is a suggested itinerary with departure in Milan and arrival in Rome, and has a duration of 10 days. A La Carte Italy Tours offers you the unique option to enjoy the beautiful sights from a minivan Italy tour with your very own chauffeur who doubles as your private guide as well. The guided tour is an exciting way to explore the many wonders of the country taking you to such scenic locations such as Brescia, Rome and the beautiful Amalfi coast.
This tour features many beautiful sights of Italy, with detailed visits of Brescia, Amalfi, and Tivoli. Highlights of this tour include a Rome city tour, a visit to the ancient city of Herculaneum, a scenic drive along Mt. Vesuvius, and a boat cruise to the island of Ischia. If you are looking for a health package with thermal spa baths, there are several possible stops in famous Italian spas along the way, and these stops can be short or long according to your wishes. This itinerary may be nicknamed "Italy revisited", or "Italy out of the beaten track", or "Italian thermal spas and tourism". This tour assumes that you have already visited (or intend to visit in the future) Tuscany, Milan, Rome and the Vatican;

that is why little or no time is granted to these areas.
This privately guided and chauffeured tour in Italy can be redesigned to suit your specific interests, needs or timeframe. Unless you wish otherwise, your guide will take you to:
Milan - Brescia - Bagno di Romagna - Tivoli - Ostia Antica - Herculaneum - Positano - Amalfi Coast - Paestum - Velia - Sorrento - Ischia - Mt Vesuvius - Caserta - Rome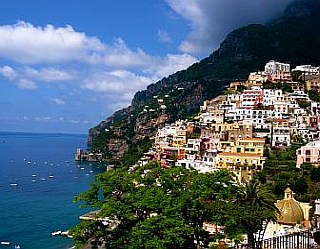 The Amalfi Coast offers spectacular views over incredible villages
Rome-Amalfi tour of Italy in 10 days - prices
Type of Accommodation
Boutique
Luxury
If your party has
2-3 passengers
price per person is
US$ 11,250
US$ 17,500
If your party has
4-6 passengers
price per person is
US$ 9,600
US$ 14,800